Simeon Yetarian still needs your help in GTA Online this week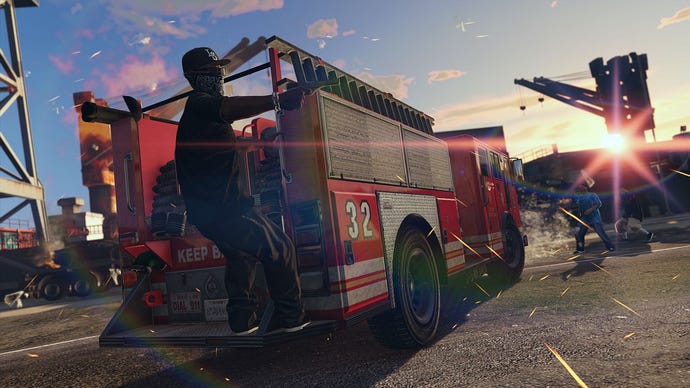 Like last week, Simeon Yetarian isn't finished with you just yet GTA Online folks.
The man has more work for you this week in GTA Online, and he's paying double the cash for both jobs.
Burn Rate finds you driving a fire truck to various locations to extinguish fires. Competitors have been setting Simeon's shipments alight, and you will have confront the arsonists while putting out the flames.
Simeonomics tasks you with stealing a shipment of luxury cars from LSIA. You will need to find your way onto the chartered cargo plane and get the vehicles to a safe location. All the while running from the cops.
Simeon isn't the only one doling out double rewards this week. You will also earn twice the payout on Gunrunning Sell Missions. Cash and RP Rewards are also doubled for all Special Vehicle Races and G-Rating Versus Missions.
https://media.rockstargames.com/rockstargames-newsite/gifs//503967b.mp4
Sales and freebies
Rockstar is also handing out a free Maze Bank West Executive Office to all players. To obtain it, pull up your iFruit, pen the Dynasty8 Executive website and claim your headquarters. You will then be able to customize it to your liking.
Sales this week include 40% off all Facilities, Renovations and Add-Ons and a number of other property discounts. Select premium and military-grade vehicles also on sale for up to 40% off through May 15. All ammunition and body armor is 35% off and Doomsday Heist Clothing is 30% off.
If you want to jump into Premium races this week, the schedule is below.
Premium Races
May 10 - 13: Art to Art (locked to Motorcycles)
May 14 - 15: Cutting Coroners (locked to Super)
Finally, just for logging into GTA Online this week will net you a free Warstock Cap.