GTA Online Heists hit "early 2015" - new vehicles, weapons & more confirmed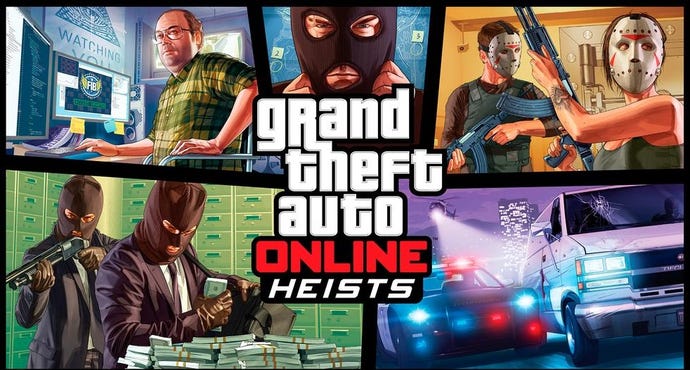 Rockstar Games has confirmed that GTA Online's Heists will go live in early 2015 promising 20 hours of gameplay and featuring new weapons, vehicles and items.

The news comes from an interview with IGN. Rockstar is promising around 20 hours of new gameplay split over "five unique strands" and 20 missions in total. Rewards will be handed out to players for completing all five Heists in order, as well as completing them in the new first-person mode on Xbox One and PS4.
"We never want to have to move a date but if something is delayed, it's because it's not at the level we expect of ourselves," said lead mission designer Imran Sarwar of the long-awaited Heists missions. "And while we're not there yet, we're getting close and Heists will be ready early in 2015."
Sarwar described the concept of Heists as similar to those in the main GTA 5 game: "A series of multi-tiered missions featuring diverse prep work, a range of different types of gameplay and a big finale, where team coordination and playing your own distinct role could make the difference between success or failure.
"We also wanted each one to have a unique thread that brought you back in touch with some of the characters from the story."
Heist jobs will require 4 players all at Rank 12 or above, with Heists split into multiple missions.
Whoever is the leader of the Heist will need to own a high-end apartment in order to plan out the job. The leader will be contacted by Lester when there's a job available, and he or she will also have to invite players, pick outfits and weapons.
The downside is that the Heist leader has to front all the set-up costs for the job to begin with.
As the team progresses through each multiple part of the job, the other three players will be paid per mission but the leader won't get their payout until the Heist is complete.
A Heist ends with a big set-piece job, and will include "new vehicles, new weapons, new items and new clothing, as well as visiting some surprising locations and interacting with some familiar characters from the story."
Although no specifics about a Heists were shared, Sarwar did mention a prison break with the players specialising in demolitions, piloting and "some undercover work" and new screenshots show off an aircraft carrier and armoured truck.
Thanks AGB for the screens.