Fortnite and Rocket League crossover event Llama-Rama kicks off this weekend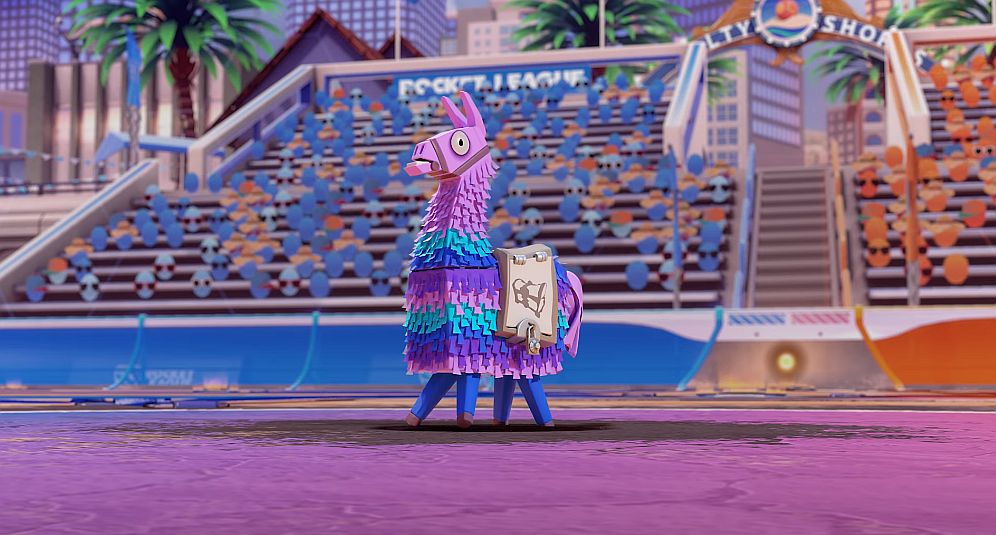 Fortnite is celebrating Rocket League's move to free-to-play with Llama-Rama, a crossover event where players can complete Rocket League Challenges to unlock rewards for both games.
The Fortnite and Rocket League Llama-Rama kicks off on September 26 and runs through October 12.
It all kicks off following the Party Royale's upcoming Spotlight Series concert featuring Rocket League fan-favorite, DJ Slushii.
Llama-Rama will be live on platforms where Rocket League is available.
During play, Rocket League players will get Fortnite-themed items as they complete Llama-Rama Challenges in Rocket League. Additionally, Fortnite players will receive Rocket League-themed items in Fortnite as part of the same Challenges.
Llama-Rama Challenges
Challenge One

Rocket League Challenge: Play an Online Match in Any Playlist
Rocket League Reward: Llama Flyer Antenna
Fortnite Reward: Rocket League Spray

Challenge Two

Rocket League Challenge: Win 1 Online Match in Casual with the Llama Antenna
Rocket League Reward: Top Llama Topper
Fortnite Reward: Holodata Drop Contrail

Challenge Three

Rocket League Challenge: Get 5 goals, saves, or assists with the Llama Topper
Rocket League Reward: Loot Llama Octane Decal
Fortnite Reward: Rocket Groove Music Track

Challenge Four

Rocket League Challenge: Win 5 Online Matches in Any Playlist with the Llama Decal (Octane)
Rocket League Reward: Llama Wheels
Fortnite Reward: Rocket League Emoticon

Challenge Five

Rocket League Challenge: Get MVP in any Online Match with the Llama Wheels
Rocket League Reward: Battle Bus + Battle Balloon Antenna, Battle Bus Wheels, and Battle Bus Engine Audio
Fortnite Reward: Octane RL Backbling + style variant
After completing Llama-Rama Challenges, players can view the Rocket League Event Challenge Page to redeem Rocket League rewards for completed Challenges.
For Fortnite, players will receive Challenge rewards after logging into Fortnite after each Challenge is completed in Rocket League. You do not need to claim rewards in Fortnite to get your Fortnite items.
Any completed but uncollected Challenges are auto-claimed when the event ends on October 12.
In other Fortnite news, K-Pop boy band BTS will be featured at Party Royale. The band will debut a new music video of the single Dynamite, and afterward, players will be able to enjoy a Dynamite afterparty. You will also be able to buy a BTS Dynamite Bundle which comes with two emotes similar to BTS dance moves.