Now Dragon's Dogma is available for everything there's no excuse for not giving it a try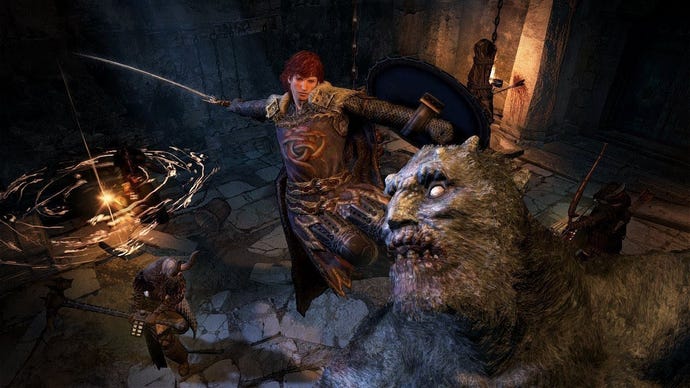 I'm going to say it. Dragon's Dogma is one of the best role-playing games of the previous console generation - and everybody should at least give it a try.
Obviously, I need to be clear about what I mean by that statement. Caveats abound; Dragon's Dogma is no Skyrim. It's no Mass Effect 2 either. In fact, in many places it's a bit of a hokey, uneven, unsure mess - but it's also brilliant, brimming with strong ideas and a plucky attitude.
That pluckiness was probably required during the game's development. Capcom knows how to make a good game, as has been thoroughly proven over the last couple of years with the likes of Monster Hunter World and Resident Evil's thrilling renaissance. But even then, a game like Dragon's Dogma was a huge stretch. Capcom made arcade games and on-rails narrative thrillers, not sprawling open worlds. Capcom hadn't really made a major RPG since Breath of Fire sadly shuffled off into the sunset - it always seemed a weird anomaly.
What an anomaly it is, however. The game didn't really truly find its feet until its second expanded and improved version, Dark Arisen, but in that stride is something really special and unique in the big-budget open-ended RPG space.
At the core of Dragon's Dogma is the pawns. You create not only your protagonist character, but also their pawn - an AI sidekick summoned from the ether to assist on your adventures. You can also recruit two non-custom pawns - and these come from the internet, borrowed from other players (pre-set pawns are also available for offline players). As well as accompanying you, your pawn can head out into the internet to join other players. As part of this process, pawns learn from their experiences - so your pawn might return with knowledge of an enemy weakness you weren't aware of and such. Next time you face that enemy, they'll give you a heads up.
This is just one of the unique ideas hidden away in Dragon's Dogma, a game that at first blush just seems a bit like a poundland Elder Scrolls. It's so much more, though. Ultimately it's a game that is more than the sum of its parts, with elements like the pawn system and your ability to clamber atop enemies and slice parts off their writhing bodies working together to make something that feels like nothing else around. The feeling when the boss music swells with orchestral flair and your pawns work to assist you is difficult to match.
Dragon's Dogma isn't easy to give yourself over to, especially in the year 2019 where in many other ways video games have moved on. Those who invest time will be richly rewarded, however, the game twisting and turning its way towards an ending that isn't really an ending, somehow managing to never not be compelling and entertaining even as its framework, built by developers with little RPG experience, creaks under the weight of its tremendous ambition.
As of last week, Dragon's Dogma: Dark Arisen is now available for Nintendo Switch. That means it can now be picked up for PC, Xbox One, PlayStation 4, and the last-generation machines. There is no longer any excuse. Anybody who has a taste for a good open-world RPG yet to should give this unique gem a chance. It's well at home on Switch, too - while performance takes a hit, Dragons Dogma's breezy approach to exploration and short-but-intense enemy encounters are ideal for on-the-go play.
Meanwhile, I'm left asking the same question as all who have fallen for this game's quirky charms: when's Dragon's Dogma 2? With director Hideaki Itsuno now done with Devil May Cry 5 and still interested in a sequel, the answer to that question is hopefully soon.