Dragon Age: Inquisition wins DICE Game of the Year award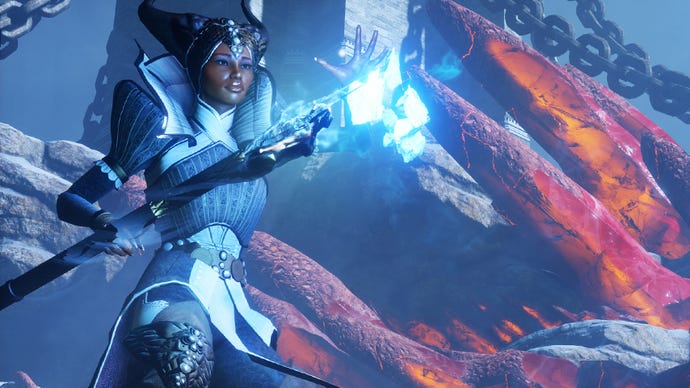 Dragon Age: Inquisition has emerged as this year's DICE Awards game of the year.
Dragon Age: Inquisition was something of a surprise winner at the end of the night, as Middle-earth: Shadow of Mordor had taken out eight awards up until that point, including oustanding achievement and innovation in game design, and adventure game of the year.
Inquisition also took out RPG of the year. There were a couple of other multiple award winners; Destiny took four gongs, and both Super Smash Bros. and Hearthstone got two.
Here's the full list of winners:
Outstanding Achievement in Animation
Middle-earth: Shadow of Mordor
Outstanding Achievement in Art Direction
Monument Valley
Outstanding Achievement in Character
Middle-earth: Shadow of Mordor (Talion)
Outstanding Achievement in Original Music Composition
Destiny
Outstanding Achievement in Sound Design
Destiny
Outstanding Achievement in Story
Middle-earth: Shadow of Mordor
Outstanding Technical Achievement
Middle-earth: Shadow of Mordor
Action Game of the Year
Destiny
Adventure Game of the Year
Middle-earth: Shadow of Mordor
Family Game of the Year
LittleBigPlanet 3
Fighting Game of the Year
Super Smash Bros. Wii U
Racing Game of the Year
Mario Kart 8
Role-Playing/Massively Multiplayer Game of the Year
Dragon Age: Inquisition
Sports Game of the Year
FIFA 15
Strategy/Simulation Game of the Year
Hearthstone: Heroes of Warcraft
D.I.C.E. Spite Award
Transistor
Handheld Game of the Year
Super Smash Bros. 3DS
Mobile Game of the Year
Hearthstone: Heroes of Warcraft
Outstanding Achievement in Online Gameplay
Destiny
Outstanding Innovation in Gaming
Middle-earth: Shadow of Mordor
Outstanding Achievement in Game Design
Middle-earth: Shadow of Mordor
Outstanding Achievement in Game Direction
Middle-earth: Shadow of Mordor
Game of the Year
Dragon Age: Inquisition