Diablo 3 Season 13 is now live, see the new rewards
Season 13 of Diablo 3 has kicked off, bringing new cosmetics for everyone to earn.
As with every Diablo 3 season, everyone gets to start fresh (for Season characters) and race through the journey to unlock exclusive new cosmetics.
As you make progress through the Season 13 journey, you'll unlock the helm, and shoulder slots for the the Conqueror Set, and a set of new character portraits themed around Imperius. You'll also unlock a new pet: Blaine's Bear - an adorable/horrifying teddy bear that holds knives and is all bloody.
If you complete chapters 2, 3, and 4 of the season journey, you'll be rewarded with three Haedrig's Gifts. Each gift unlocks a few pieces of your class sets, but only enough to unlock one full set.
These are all possible sets in Season 13:
Barbarian – Might of the Earth
Crusader – Thorns of the Invoker
Demon Hunter – The Shadow's Mantle
Monk – Monkey King's Garb
Necromancer – Grace of Inarius
Witch Doctor – Raiment of the Jade Harvester
Wizard – Firebird's Finery
Seasonal conquests also make a return in the form of Sprinter, Speed Racer, Divinity, Lionhearted, Curses, Stars Align, The Thrill, Super Human, Masters of the Universe, and Masters of Sets.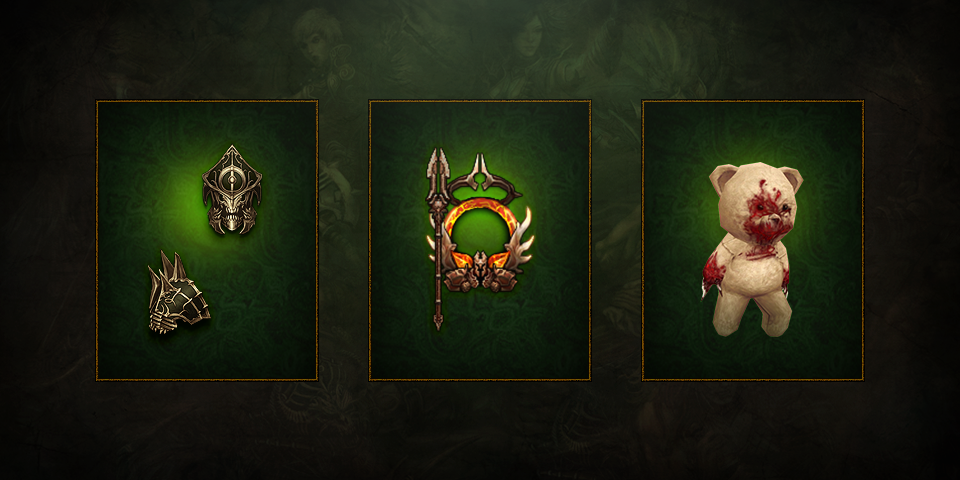 Finally, for players who haven't been able to reach Conqueror status in previous seasons (thus having less than four stash tabs), Blizzard is offering them a chance to unlock one stash tab by completing these tasks at the Conqueror tier:
Complete a Torment 13 Rift in under 5 minutes
Complete Greater Rift 60 solo
Kill Greed on Torment 13
Kill Cydaea on Torment 13in under 15 seconds
Reforge a Legendary or Set item
Augment an Ancient item with a Level 50 or greater Legendary Gem
Level three Legendary Gems to 55
Complete two Conquests