Destiny 2: Season of the Worthy - How to get the Tommy's Matchbook Exotic Auto Rifle and complete the Catalyst
The Season of the Worthy is finally here and for Season Pass holders, there's a new Exotic to get your hands on.
Destiny 2 Season Pass holders will be able to get their hands on the new Season of the Worthy Exotic, Tommy's Matchbook, right from the off. It's a slick-looking auto rifle with decent range, stability and handling and will make an excellent addition your weapons arsenal.
Its Intrinsic Perk, Ignition Trigger, inflicts more damage as the weapon overheats, but it'll also burn your hands while you're firing. If you're aiming down the sights, you'll overheat quicker, so just fire at will from the hip like a true maverick. It fires 720 rounds per minute and deals Solar damage, meaning you can point and shoot for a good while before you need to reload. With all that in mind, here's how to get your hands on it.
Destiny 2: Season of the Worthy - How to get the Tommy's Matchbook Exotic Auto Rifle
The Destiny 2 Season Pass costs 1000 Silver, which is roughly £8.50 or $10. There are two ways to get the new Exotic, so don't fret if you don't want to part with your hard-earned cash.
If you're a Premium Season Pass holder, head to the Seasons screen to view your rewards. You'll see that you have a Premium Rewards box - in my case, a Premium Warlock Rewards box - that contains Tommy's Matchbook, a set of Seventh Seraph armour and an XP boost.
If you don't buy the Season Pass and want to progress through the free tiers, you'll need to grind until Tier 35 to unlock Tommy's Matchbook.
Destiny 2: Season of the Worthy - How to get the Tommy's Matchbook Catalyst
As with most new Exotics in Destiny 2, Tommy's Matchbook also comes with a Catalyst. To get started, speak with Banshee-44 in the Tower to pick up a new quest called A Good Match. You'll then need to complete three objectives to unlock the Catalyst, which involves taking part in some PvP and PvE activities.
You'll need to:
Earn 400 points in Strikes, Nightfalls, Gambit or Crucible matches
Get 200 Auto Rifle Combatant Multikills
Defeat 100 Guardians with an Auto Rifle
Crucible and Gambit wins, alongside Legend or Master-tier Ordeals will fill your progress bar much faster, but if your Power level is too low or you don't like PvP very much, just keep battering on until you're done.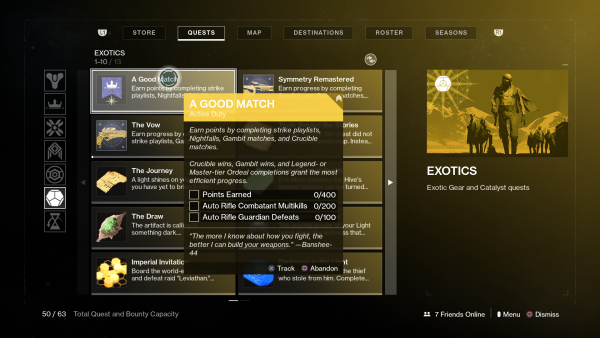 Obviously, you're encouraged to use Tommy's Matchbook, but you can choose another Auto Rifle if you wish. Once you've done all that, speak with Banshee-44 again to get the final quest, which involves killing 700 enemies. Your best bet is to head to Mars for some Escalation Protocol, the Blind Well and other horde-based modes.
You'll get a pretty good reward for all this grind. The Catalyst provides you with a new perk, Heat of The Moment, which increases your health gain while Ignition Trigger is active, meaning you'll be injured less by the overheating.
For more Destiny 2: Season of the Worthy guides, you can check out how to complete Into the Mindlab, where to find the first Seraph Bunker, and how to get the Warmind Khanjali Artifact.
If you're new to Destiny 2, you can check out our Forsaken guide here as well as how to find Lost Sectors and cache codes.