Classic Resident Evil location revisited in new Umbrella Corps trailer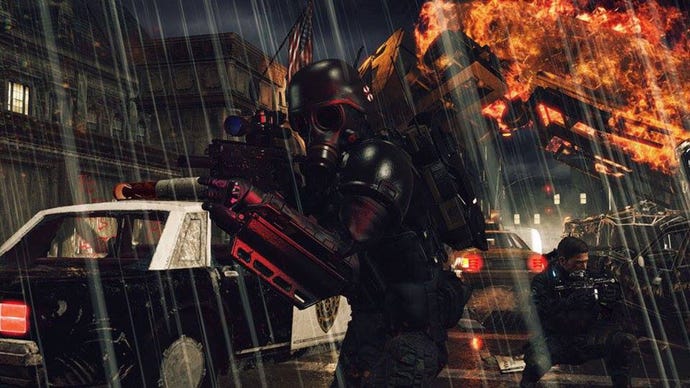 Return to the wreckage of Raccoon City.
Classic Resident Evil locations revisited in new Umbrella Corps trailer
Umbrella Corps is a new competitive shooter set in the current Resident Evil universe. Following on from events of the core series, it pits teams of mercenaries against each other as they scramble to collect important data from the ruins of Umbrella Corporation sites and facilities, fuelling the corporate power struggle kicked off by the bio-weapon manufacturer's collapse.
Some of the places you'll visit will be familiar, as with the new maps revealed in today's trailer: Racoon City and Raccoon City Police Department. I'm sure we all have fond memories of wandering back and forth through its labyrinthine halls muttering "who locks a door with a bunch of medals hidden on statues anyway, this is a government building". Here's Capcom's description of the two maps:
The first new battlefield revealed is the Raccoon City map, which recreates the hazardous city streets first seen in RE 2 and RE 3. Overturned vehicles, walls of flame, and the shambling undead are scattered around the streets. Mercenaries can also venture down into the sewers below Raccoon City, shooting it out in the same narrow passages where infected rats once spread the T-Virus.
Speaking of Raccoon City's Police Department, the headquarters' main hall plays host to one of the most open maps in Umbrella Corps. The ruinous RPD building interior is reimagined as a patchwork refuge, with metal sheeting and scaffolding connecting the first and second floors. Mercenaries can even take cover beneath the ornate statue which held a key item in RE 2. Don't get too nostalgic exploring the crumbling hall, however, because players are extremely exposed to enemy fire in this map.
Capcom accompanied the trailer with word of an add-on called the Upgrade Pack. This $15 DLC adds characters skins, weapons, patches, custom colours and emotes allowing you to take on the appearance of Leo, Chris, Albert Wesker, Barry Burton, Jake Muller, and HUNK. Although the base version of Umbrella Corp goes for $30, you can get it bundled with the Upgrade Pack for $40 in a Deluxe Edition.
Umbrella Corps releases in June for PC and PS4, via digital storefronts. Pre-orders include the Fashion Victim Pack, which provides a number of colourful customisaiton options. PS4 pre-orders also come with a dynamic theme.