Call of Duty: WW2 gets Thanksgiving double XP weekend, first seasonal event brings snowy Carentan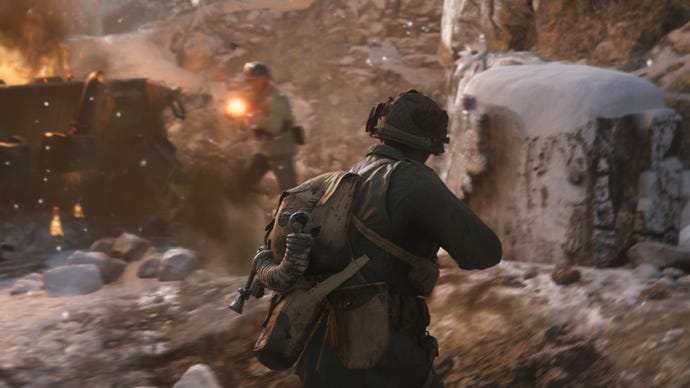 Call of Duty: WW2 has quite a busy few weeks ahead of it, now that most of the biggest launch problems have been ironed out.
Call of Duty: WW2 developer Sledgehammer Games has outlined some of the in-game events and future updates coming to the game in the near future. It all kicks off with an extended double XP weekend.
Double XP will be activated for all modes beginning today at 10am PT, 1pm ET, 6pm UK, 7pm CET all the way until the same times on Monday, November 27. Following that, on December 8 at 10am PT, the Winter Siege event will start.
Winter Siege brings a new map: Winter Carentan, a snow-covered version of Carentan that will be available to all players only during the event. Winter Carentan will be added to all multiplayer game modes. There's more to this event that Sledgehammer will share closer to launch. It'll be available until early January.
The developer confirmed that Season 1 of Ranked Play will launch on Friday, December 1 on PS4, and Xbox One. There was no mention of Ranked Play on PC. That said, PC is getting an emblem editor on December 8 that'll include some PC-specific features.
Finally, Sledgehammer announced that a new game update will be released next week on all platforms. It promises UI improvements, map exploit fixes, connectivity optimisations, a fix for a big smoke grenade bug, and fixes for party issues some players are running into.
The update also brings balance tweaks in the form of a recoil increase for the BAR, and reduced flinch reduction when using the Primed Basic Training. The developer reiterated that it's currently testing reductions to flinch across the board.
In case you missed it, COD Points have gone live overnight in the game. A Rare Supply Drop will cost you $2 / £1.80.