Call of Duty: Warzone and Modern Warfare double XP extended, Season 3 promo email leaks
Infinity Ward has extended the bonus XP event for another day in Call of Duty: Modern Warfare.
Call of Duty: Warzone and Modern Warfare players will know that things haven't exactly been smooth on the XP earning front over the weekend. Despite double XP, weapon XP and double tier progression being active, many simply didn't earn XP from some matches.
Infinity Ward confirmed that it was indeed a problem, and to make up for it, the developer extended the double everything event until later today. It will now end today at 11pm PT, 2am ET (April 8), 7am UK (April 8).
Over the weekend we experienced a few XP and progression issues. To thank you for your patience while we got everything back up and running, we'll be leaving the 2XP, 2XP Weapon and 2XP Tiers event on until Tuesday, April 7th at 11PM PST.

— Infinity Ward (@InfinityWard) April 7, 2020
The game's third season remains on track for launch tomorrow, April 8, and it looks like someone at Activision was a little too eager to send out promotional emails. The Season 3 email was sent to some players, and it does confirm a few details.
As obtained by Charlie Intel, it confirms that this is indeed Alex from the Modern Warfare campaign on the cover. Alex was presumed dead at the end of the campaign, but it appears he survived, though he did lose a leg.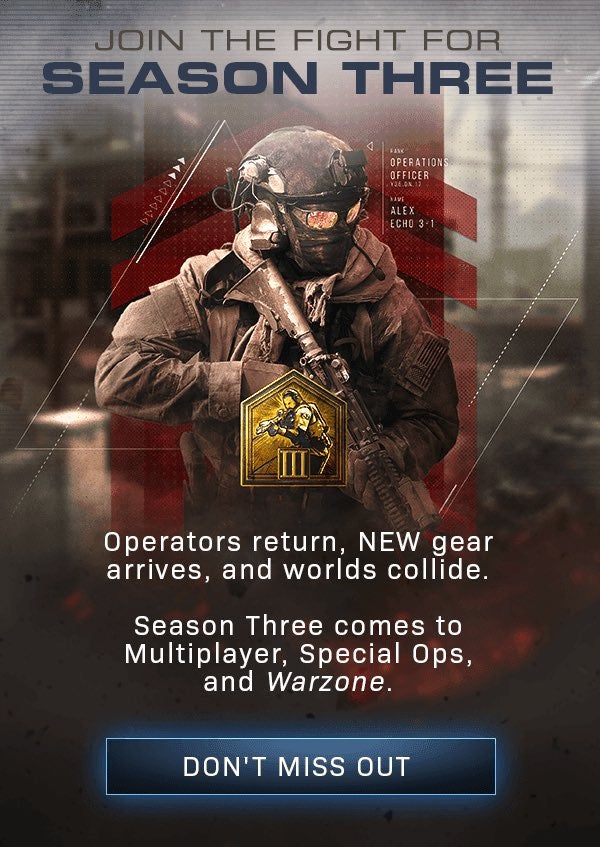 As you can see, the cover shows what could be the tier 100 alternate skin unlock for Alex, seeing as it would make more sense to offer vanilla Alex at the start. Judging by the first two seasons, at least, Infinity Ward likes to keep alternate skins to the end of the pass.
The promo email also confirms new content for multiplayer, Warzone and Spec Ops. It doesn't say what's coming, of course, but it's interesting that all three are specifically mentioned. Season 2 did not bring any new Spec Ops content, for instance.