Bayonetta 1 and 2 Confirmed to be Leaving the North American Wii U eShop Next Week [Update]
The stylish witch will stay with the Switch.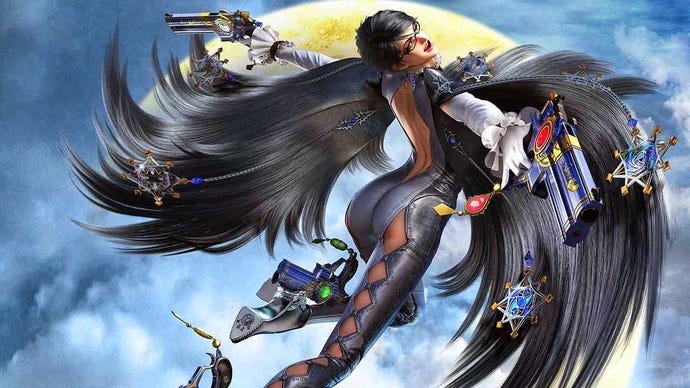 This article first appeared on USgamer, a partner publication of VG247. Some content, such as this article, has been migrated to VG247 for posterity after USgamer's closure - but it has not been edited or further vetted by the VG247 team.
Update: Nintendo has confirmed to USG that those who already own digital copies of Bayonetta 1 and 2 will still be able to download them to their Wii U consoles after September 19.
The original story follows.
---
As one console flourishes, the sun sets on its predecessor. Nintendo has confirmed to USgamer that the Wii U eShop will stop selling Bayonetta 1 and 2 on September 19.
Nintendo of America confirmed in a statement to USgamer today. It also confirmed that, although the Wii U versions will be disappearing, the Switch editions will stay in the eShop's digital storefront.
As of Sept. 19, the Bayonetta and Bayonetta 2 games for the Wii U system will no longer be available for purchase on Nintendo eShop. Both games will still be available for purchase in Nintendo eShop for the Nintendo Switch system.
We've reached out to clarify whether current digital owners will still be able to download their games even after they've been delisted, as well as the reason behind this delisting for the Wii U version of both Bayonettas. We did not hear back by publication.
It was announced yesterday that both the Bayonetta games would be leaving the Wii U eShop in other territories, like Europe and Japan, but at the time the North American eShop seemed unaffected. Now, it looks like the witchy action game will digitally depart the platform in most all major regions. If you've got a digital copy and still plan on booting up the Wii U to play, you might want to download them before September 19.
Digital delisting is one of the ongoing issues with a modern, digital era of playing games. Cult classics like Alpha Protocol and large portions of the Telltale catalog have found themselves at the mercy of digital dissipation, some with little recourse to ever find and play.
Thankfully, Bayonetta's Wii U appearance had a physical presence, and those who own a Nintendo Switch have another platform to play them on, alongside the upcoming Bayonetta 3. It's hard to not feel at least a little sad about seeing games disappear from a storefront though, as it's another step towards the quiet end of the Wii U's lifespan.