Attack on Titan game is indeed the answer to "not Warriors" tease [UPDATE]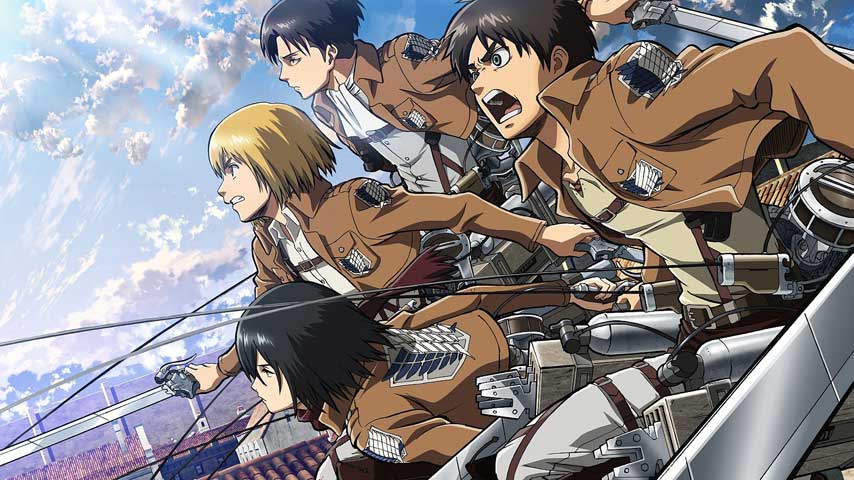 The Omega Force "not a Warriors" game is indeed Attack on Titan, and it's coming in 2016.
Details are still unavailable; however, Koei promised more details soon.
Here's the official blurb from Koei's Facebook page:
"We are pleased to announced a collaboration with Kodansha to develop and publish an exciting new action title, based on highly acclaimed worldwide anime hit series 'Attack on Titan'.

"I am very happy to reveal we have started developing a new action game based on the phenomenally successful Attack on Titan," said ! Hisashi Koinuma, president of Koei Tecmo Games and head of the project. "Having evolved from a manga/anime series to an internationally recognized brand, we were enchanted by the opportunity to create our own take on humanity's last stand against these overwhelmingly powerful beings, the Titans.
"Although there is still a long wait until this game is released in 2016, our studios are already pouring all of their passion and excitement into it and we hope to reveal more information soon! In the meantime, prepare for battle! The Titans are coming."

The yet-to-be-named game is being developed by Omega Force and is currently planned for release in 2016 in the west.
Original Story
A new Attack on Titan game is coming, and suddenly all the pieces are coming together.
Multiple reports suggest Koei Tecmo is set to announce a new Attack on Titan game for release on "PlayStation" in northern winter.
The news is ultimately sourced from the latest Japanese issue of the Attack on Titan manga. It has been passed on by a Japanese blog, which both Siliconera and Anime News Network credit.
We have reason to believe this may explain Koei Tecmo's recent teasing of a new Omega Force game, which it promised was "not Warriors". Now that we look back at the teaser site, the colour palette and font do put us in mind of the Attack on Titan anime, as do the various cryptic phrases it has produced.
We should know more later today; if the news comes out of gamescom it will be especially satisfying, as Attack on Titan is heavily influenced by German culture.