Attack on Titan 2 arrives in early 2018 - watch the first teaser here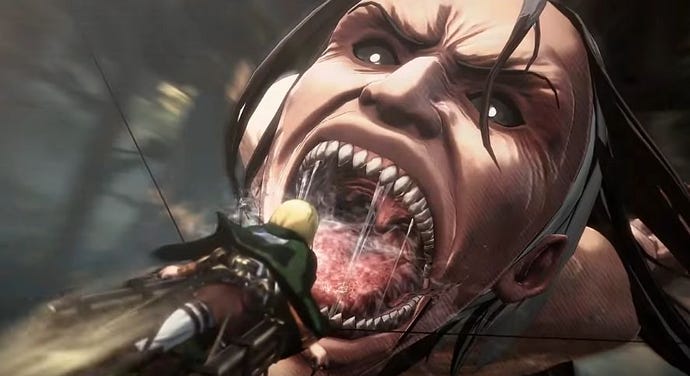 Attack on Titan 2 was announced at gamescom 2017 while we were very busy eating sausages.
Attack on Titan 2 is inbound, although we don't know a great deal about it as yet. It seems a fairly safe bet it will follow the unusual action stylings of the first game and boast the same glorious stylised graphics, but with content focused on the second season of the hit anime.
That said, developer Omega Force has promised "an abundance of new gameplay mechanics", so let's hope that means a bit more depth to the progression and narrative systems in Attack on Titan 2.
Koei Tecmo didn't see fit to furnish us with platform details, but logos on the Attack on Titan website suggest it's headed to PC, PS3, PS4, Vita and Xbox One, like the first game. Or perhaps the site simply hasn't been updated, despite the press release claiming it has, to no visible effect? A mystery.
The first home console Attack on Titan game, mysteriously released as A.O.T: Wings of Freedom in Europe, released in August 2016. I enjoyed it, but my tolerance for Koei Tecmo's provision of dozens of hours of near-identical content is perhaps more highly developed than is usual.
Attack on Titan is an enormously popular dark and gory manga franchise set in a world where monstrous titans have driven humanity behind the walls of one last city. It's pretty good.