7-Eleven to give away God of War III goodies with Slurpees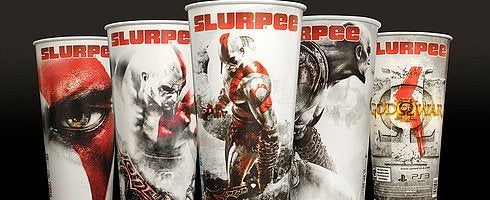 As if you didn't already have an excuse to walk into 7-Eleven and get a Slurpee or a Big Gulp, Sony and the convenient store are teaming up in the US to give gamers a better reason than just a sugar rush - God of War III codes for armor, dynamic themes, and more.
Those that step through the doors of their local 7-Eleven store between February and March and pick up a blackberry/lime Slurpee called "Kratos Fury" or just a Slurpee in one of four exclusive God of War III cups will get codes.
The codes on the cups can be redeemed through March 31 at Slurpee.com for a chance at the Morpheus Armor or a dynamic theme for your PS3 with more to be announced next week.
Mountain Dew is also getting in on the action, with caps from 2-liters or 20oz bottles giving you a chance to win a voucher code that can be redeemed for a Mountain Dew hoodie or God of War III virtual t-shirt for PlayStation Home.
There's more info on this through the US PS Blog, along with pics of the goodies.
Game's out March 16 in the US, with PAL regions expected to get it during the same week.