Cyberpunk 2077 Romance | How to romance Judy, Panam, more
Love is hard to come by in Night City, and "Romance" in Cyberpunk 2077 is harder still. However, there are a few key characters you can forge deeper or more intimate relationships with across the game.
There are four main "Romance" questlines — with Judy, Panam, River, and Kerry — but there are several other flings and one-night-stands you can trigger if you're that way inclined.
Basically, you need to complete optional quest lines with each character, eventually unlocking a special "Romance" scene with them, which – as you can probably guess from the rest of Cyberpunk 2077 – consists mainly of knocking reinforced punk fleets like there's no tomorrow.
Here's where you can find the four main romances, as well as all of the various flings we've found so far.
Cyberpunk 2077 Romance Guides:
How romance works in Cyberpunk 2077
While we've said already that there are four major romantic options for V in Cyberpunk 2077, in practice you won't have an equal shot at impressing all of them. Exactly who you can pursue a romance with depends on the choices you made in the character creator at the beginning of the game.
This is because (unless you're playing with certain mods that unlock all V's potential romance options) Judy, Panam, River, and Kerry all have a gender preference that limits which variants on V they'll be interested in.
In Cyberpunk 2077, the primary deciding factor in how the game recognises V's gender is (somewhat oddly) the voice tone you chose at the start of the game. Masculine-voiced V will be treated as male by the game, while feminine-voiced V will be treated as female. This determines which pronouns V uses throughout the game, as well as other characters' perception of V's gender.
However, V's body type is also an influencing factor when it comes to romance: if you've chosen to match a masculine frame with a feminine voice tone or vice versa, some of your potential paramours won't be into that. In fact, if you've gone for a gender non-conforming V and mix-and-matched voice and body type, your options will be reduced to one potential romantic interest in the whole game.
On the plus side, Cyberpunk's infamous genital customisation options are purely cosmetic, and have no effect on your potential love interests' feelings about starting a relationship with you. It's all about body type (and sometimes voice tone) with these four.
Furthermore, the game's various "flings" will all be available regardless of V's gender presentation.
If you're wondering what makes Judy, Panam, River, and Kerry "romance" options and other characters (notably Meredith Stout) "flings" — it's mainly because one of the aforementioned big four can potentially become V's long-term partner. Maintaining a relationship with one of them into the end-game can potentially lead to them playing a supporting role in the ending you get — but to avoid spoilers, we won't divulge more than that in this guide.
How to romance Judy Alvarez in Cyberpunk 2077
Judy's gender preference: Feminine voice tone, feminine body type.
You meet braindance specialist and Mox-affiliated hacker Judy pretty early on in Cyberpunk 2077's story, in the quest, The Information.
While she's a prickly acquaintance at first, but through her shared experiences with V the two become closer, eventually becoming a romanceable character.
However — despite the recent unearthing of some cut content hinting that she might originally have been romanceable by a masculine-voiced V — Judy is only available to romance if you have the feminine voice tone and body type.
To romance Judy, you first need to complete the main story quests:
The Information
Automatic Love
The Space in Between
Disasterpiece
These are all principally concerned with Judy's friend, and your client, Evelyn Parker.
As these quests resolve, you'll have to take some time away to follow up other leads.
Then, after you've completed other missions, gigs, and side jobs, Judy will give you a call out of the blue with an urgent matter.
Say you'll head over to her apartment and this will start her optional quest line, beginning with "Both Sides, Now", and including, "Ex Factor", "Talkin' 'bout Revolution", "Pisces", and finally "Pyramid Song".
At the summation of this series of quests, you'll find the options to romance Judy.
How to romance Panam Palmer in Cyberpunk 2077
Panam's gender preference: Masculine or feminine voice tone, masculine body type.
Another character from Cyberpunk's main story, Panam Palmer is a nomad from the Aldecaldo clan who helps you hunt down one of your targets.
The romance with Panam is more overt than with Judy, and is introduced more obviously in the required quests. However, you'll still have to complete them all to receive the scene.
Unlike Judy though, Panam is only available to romance if V has a masculine body type, though she has no preference as to voice tone. In fact, if your V has a masculine frame and feminine voice tone, Panam will be your only major romantic option.
To romance Panam, you need to complete the main story quests:
Ghost Town
Lightning Breaks
Life During Wartime
During this branch of the game's narrative, you'll have the option to suggest you and Panam share a bed while you stay at a motel, but this isn't where the scene triggers.
Once you've finished up in the Badlands for that part of the story, Panam will later call you for help with the quest "Riders on the Storm".
At the end of that quest, she'll come on to you again, but while you need to reciprocate her advances here, it's again not the right time.
The vital part here is the next morning. When Panam goes to leave on her motorbike, you must take the timed dialogue to stop her and talk about last night.
This is your first romantic encounter, and things progress from there.
Later still, she ring V up for another quest "With a Little Help from my Friends" that you need to complete. At the top of a building, you'll have the option to say that you missed her to take things further.
Next, you get a final quest: Queen of the Highway. This is where the sex scene can be triggered if you've taken the romance options up to this point.
How to romance River Ward in Cyberpunk 2077
River's gender preference: Feminine or masculine voice tone, feminine body type.
While River doesn't appear in one of the early main quests like the other two characters, you'll probably find his Side Job naturally as well. For me, it popped up after Life During Wartime.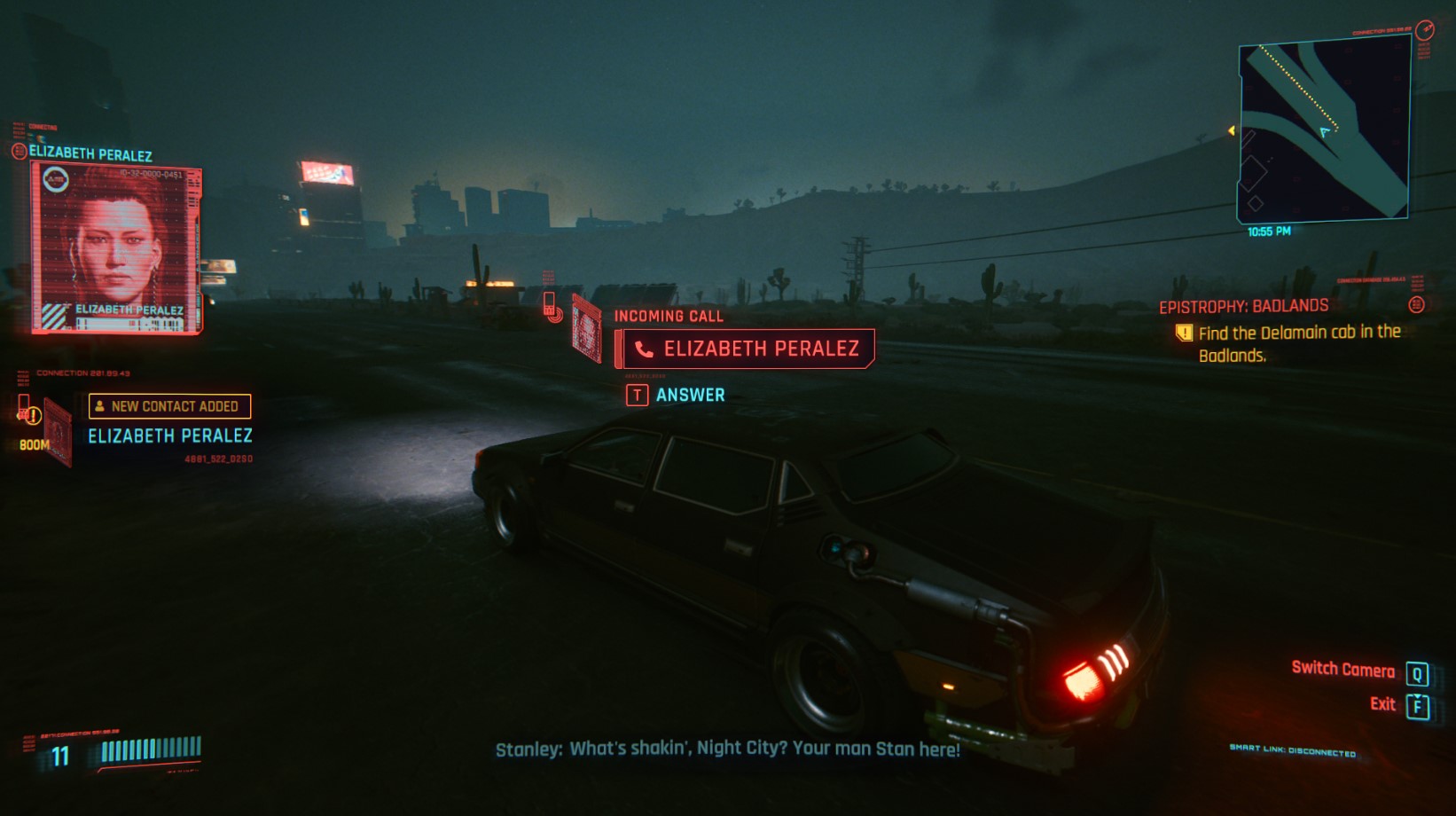 To romance River, you need to meet him during the "I Fought the Law" quest, then continue his line of optional jobs, including "The Hunt" and "Following the River".
River is only available to romance if V has a feminine body type, though he has no preference as to voice tone. If your V has a feminine frame and a masculine voice tone, River will be the only major romantic option available to you in the game.
How to romance Kerry Eurodyne in Cyberpunk 2077
Kerry's gender preference: Masculine voice tone, masculine body type.
Johnny Silverhand's old band mate Kerry, fellow guitarist and singer in Samurai, is also a romanceable character in Cyberpunk 2077.
To start his quest line, you need to go down the "Chippin' In" path with Johnny during Act 3 of the game.
Not only does this path lead you to one of the game's best weapons, and awesome vehicles, but you get to interact with more than a few Night City legends.
These jobs don't pop up until you're approaching the endgame, but when they do, follow the "Chippin' In" series. From there you have four quests which make up Kerry's romance route: "Holdin' On", "Second Conflict", "A Like Supreme", and "Rebel, Rebel".
Despite being canonically bisexual, Kerry is only an available romance for V if their voice tone and body type are both masculine.
Cyberpunk 2077 flings
In addition to the four main love interests, there are a few other short romantic and/or sexual encounters in the game. These optional flings don't have any long-term consequences on the story, and all are available regardless of V's gender presentation.
Meredith Stout
During the early quest The Pickup, if you pay Royce with the Militech chip without removing the malware, and then tell Meredith that you'd like to work together again and spend more time together.
Later, she'll send you a text message. Reply that you were starting to like her and you'll unlock the optional job "Venus in Furs".
It's a short quest with a hilarious reward.
Rogue Amendiares, Alt Cunningham, and Ruby Barrett
Beware minor story spoilers in this section.
These three flings work a little differently, as they all take place during the section of the game where Johnny Silverhand is controlling V's actions.
V will automatically experience Johnny's flings with Alt and Ruby — the former while reliving Johnny's memories in the "Never Fade Away" mission; the latter while Johnny is having (maybe a little too much) fun taking V's body out for a spin during the "Chippin' In" mission.
Rogue's fling is actually missable, though, so if you want to hook up with this old flame of Johnny's, you need to make a few decisions for yourself. At the end of the "Chippin' In" mission, choosing the dialogue option "the Guy who Saved My Life" will begin a dialogue route that leads to you befriending Johnny. This will unlock Rogue's side-quest, "Blistering Love".
To complete this side-quest, with Johnny still in control, call Rogue and ask her out on a date. Towards the end of the mission you'll have a conversation with her that ends with the option to kiss her. Go for the kiss to see the culmination of Rogue and Johnny's fling.
Skye & Angel
Skye and Angel are two sex workers encountered in the "Automatic Love" story mission. Unlike the "Joytoys" detailed below, Skye (female) and Angel (male) are "dolls" who work at Clouds, a club located in Japantown.
In order to proceed with the quest, you'll need to match with either Skye or Angel and go to the booth where they're working to speak with them. Who you pick makes no difference as to the information you receive, however — so it really just comes down to which you'd rather spend some time with.
While you only need to talk about the mission at hand in order to progress, you also have the option of having a more intimate encounter as well, though this mainly just results in more risqué conversation options.
Joytoys
Finally, Night City also has its fair share of "Joytoys" — sex workers who populate the various markets and shopping streets of the inner city.
Given the size of the game world, it may come as a surprise to learn that there are only four Joytoys in the game whose company V can enjoy.
The Joytoys in Cyberpunk 2077 are always found in pairs (one male, one female), and either one will be happy to engage in a one-night stand with V (regardless of V's gender presentation) in exchange for a financial consideration.
The two Joytoys who can be found on Jig-Jig Street in Japantown offer their services for €$100, while the two you encounter inside the Dark Matter club (also in Japantown) will ask for €$3,000.