Root for the villain – why Batman: Arkham Knight is one of the bravest games this generation
More games will benefit from following in Rocksteady's footsteps if they're looking to create villains worthy of admiration.
Having recently finished Call of Duty: Infinite Warfare, I was left with a feeling of utter resentment at how paper-thin and meaningless the game's villain turned out to be. I found myself recalling other games in which the main antagonist played a major part in how we perceived the events of the story, and how they shaped the overall experience.
You'll find strong spoilers for Arkham Knight beyond this point, including the game's endings and major plot points.
I am talking about Batman: Arkham Knight's Scarecrow here, of course. The mastermind behind every terrible thing that took place over that fateful night in Gotham. The Arkham Knight was not the villain of this story, though he did serve a specific and entertaining purpose, but we'll get to that.
This isn't Rocksteady's first rodeo. Both Arkham Asylum and Arkham City featured accomplished big baddies running the show. Yet both stories shared relatively positive endings, a bright tomorrow for our friend the caped crusader, with little effect on him or the world of the game. Batman may have been in a dark place at the end of Arkham City, but he was never broken, and ultimately, the Joker was taken down.
This time around Scarecrow's plans, above all else, served to push the Gotham Knight to his absolute limits before eventually breaking him.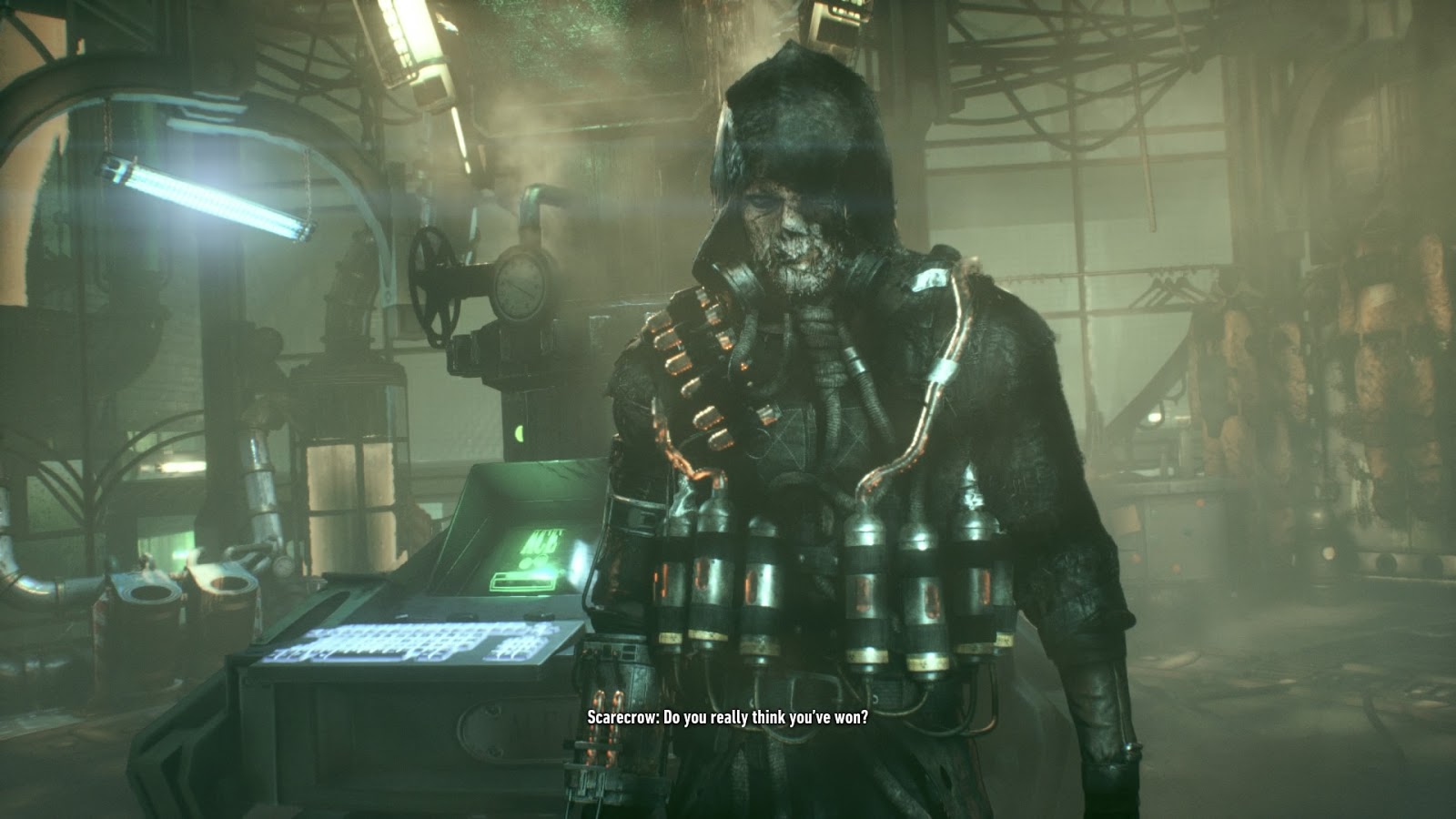 "Villainous antics in most games usually serve only to push the story forward, and they often lack substance and weight. Each time Scarecrow threatened to do something he followed through."
Each time Scarecrow threatened to do something he followed through despite our best efforts. Villainous antics in most games usually serve only to push the story forward, and they often lack substance and weight. Here, we were presented with a bad guy worthy of our attention for the simple reason that he preys on the feeble, fallible human nature, something everyone can relate to.
All the time we spent attempting to foil Scarecrow's plans was akin to working our way to the top of a mountain, thinking every inch is a victory, when in reality we're nowhere near the peak. Make no mistake, not reaching the proverbial peak is the same as losing. These were the stakes in Batman: Arkham Knight.
Let's quickly go over the major events of the story:
The first time we're introduced to Scarecrow is right at the start of the game, when everyone got a live demonstration of what his fear toxin is capable of. After successfully locating the manufacturing facility he used to mass produce it, the Arkham Knight was introduced. It's at this moment it became apparent why he needed to be part of this story.
Scarecrow knows no number of armed henchmen can stop Batman, nor can he take him on himself. Not yet at least. Which is why he needed a true adversary to Batman, someone who knows him well – a reverse Batman, if you will. The Arkham Knight was that person, a pawn whose job it is to keep Batman busy for as long as Scarecrow needed to execute his plans.
This origin of the Arkham Knight is something the game played with until right until the end. Long-time Batman fans identified who he really was as soon as he uttered his first lines of dialogue, of course, but that's besides the point. The mystery shrouding his identity, even to those 95 percent sure of who he was, carried him throughout.
Demonstrating how powerful and resourceful the Arkham Knight is helped introduce a few red herrings to throw off those of us with a comic book background. It also helped sell the idea that he may just be a true match for Batman, something we don't see often. Although more than a worthy foe, Scarecrow knew even the Arkham Knight may not suffice, so he rounded up the rest of the usual suspects and gave them the keys to the city, ensuring Batman is always playing catch-up.
The game presented the events as a struggle for Batman from the get-go. For the first time he was overwhelmed. We as players were overwhelmed, opting instead to focus on crucial missions in order to make tangible progress.
I was still dealing with the Arkham Knight reveal before Batman had his first face-to-face with Scarecrow. He was unflinching, indicating that despite having just destroyed his factory, we may have failed to even make a dent in his operation. Even after learning about his plans to weaponize the fear toxin, Scarecrow remained unfazed. It was then I realised the game may actually let him use the Cloudburst weapon in the city.
As all of this was taking place in the foreground, in the background Barbara was taken out of the picture (leading us to believe she's gone for good), and Batman lost Gordon when the latter realised Barbara was working with him. Batman is more vulnerable than ever now, having to deal with an ever-escalating situation as he somehow continued to lose more and more of his closest allies as the night went on.
Again, all of this was part of Scarecrow's plan to break Batman, something the story often highlighted as the real endgame of this whole setup. This is when things took a turn, and the game decided to show you Scarecrow isn't all talk, letting him detonate the weapon.
After spending some time dealing with the gameplay consequences of Gotham being engulfed in fear toxin, we finally earn a victory, but not without losing another ally. This particular story event was shocking, because we're used to villainous threats not actually manifesting. Yet this time, they have, changing the game along with them.
Batman is now on edge, and having been exposed to the fear toxin earlier in the game his hallucinations are starting to have a major effect on his psyche. But it still wasn't enough to stop him. After taking a bullet for Barbara (whom we now know was alive all along), he is once again presented with impossible odds.
At this point in the story, Batman realises there's no stopping Scarecrow, and he more or less accepts the idea that he may have to finally succumb to the strain.
This leaves time for one other move, the one that will bring the adventure to an end. After learning Robin's life is under threat, Batman realises that the only way to save the boy is to turn himself in to Scarecrow. It made sense for Batman to make this decision, and for us not to question it. We, along with Batman, have witnessed firsthand what Scarecrow is capable of.
What happened here is clear: the villain of the story is about to achieve his ultimate goal of unmasking the hero, showing the world he's only human, and one that's susceptible to fear like the rest of them.
Throughout this long journey Scarecrow always showed relentless vaunt, and although he was defeated at the very last minute, all the damage he did hasn't been for naught. Batman is finally broken, and forever scarred. Even after freeing himself from the leash of his oldest demon, the Joker, Batman knew he can no longer be the city's guardian.
The game even portrayed this well in how the world reacted to the reveal, and in the way Batman himself spoke for the remainder of the campaign (assuming you didn't already clear out everything). The only thing left is for Batman to make his exit, which he does.
We may never get another story set in the same universe, but if we do, the events of Batman: Arkham Knight will have forever shaped this world. As for Scarecrow, he can rest easy knowing he is one of the most fulfilling villains in all of gaming, and one of the few antagonists to actually win.