Two Xbox One S FIFA 17 bundles will release on September 22
Microsoft has partnered with EA Sports to bring you two Xbox One S FIFA 17 Bundles.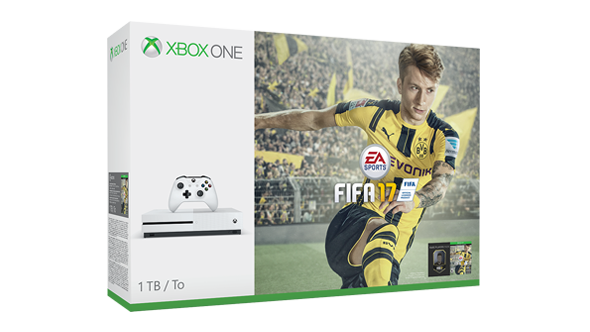 Each will be made available in Australia, Europe, New Zealand and North America from September 22.
You can find out more on its contents and where to pre-order through Major Nelson.
The Xbox One S FIFA 17 Bundle comes with a full-game download, three Ultimate Team Loan Legends, one month of EA Access and either a 500GB or 1TB hard drive. The latter comes with an Ultimate Team Rare Player Pack. The consoles will run you $299 and $349, or the regional equivalent, respectively.
EA Access members will be able to play FIFA 17's The Journey on September 22, which is five days before the game officially launches.
FIFA 17 will be made available on PC, PS3, PS4, Xbox 260 and Xbox One.