You won't be playing No Man's Sky with your friends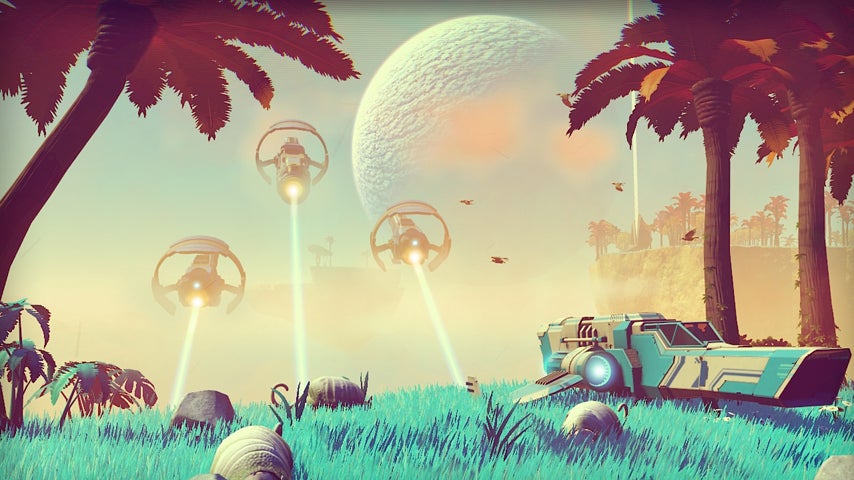 No Many's Sky isn't a traditional multiplayer game. You won't be exploring together with your mates, and most of the time, you won't even know other people are playing.
In No Man's Sky, players all explore the same universe - but they start at random points along the edge. The sheer size of the game world means that even if you know where a friend is, it's very unlikely you'll get together.
"People keep asking us about multiplayer and I think when people see this they are going to fully realize what it means to be that far away from somebody else who's playing," Hello Games boss Sean Murray told GameInformer.
"People keep saying to us, 'Yeah, but what if I knew where they were? Would I go there?' And it's like, yeah, but they are going to have to stay there for quite a while while you get over there. And then once you get over there you might land on the same planet and then you will say, 'I'm on a planet the size of Earth and I am on a mountain. Where are you?' Which is, I know, a weird thing and it's a daunting thing."
Murray said that Hello Games embraces the fact that this makes No Man's Sky quite different from other games. He stressed that playing No Man's Sky won't be like playing other games, especially MMOs. Multiplayer will work through open lobbies.
"People are coming into that lobby and leaving it – like if you play Watch Dogs or something like that. Effectively, we have players joining your discrete space," Murray said.
"We're not trying to make an MMO where you can play with literally 60,000 people on screen. We handle the case like where other people can fly past in your game or that you can bump into other players in the game."
Encountering a player on the ground will be even more rare.
"We keep talking about Jack's dad from Lost, basically just to see them in the distance. Like, 'Did I? What?'" Murray said.
Murray compared the game to Journey or Dark Souls, where the multiplayer isn't the heart of the experience, but additive. Hello Games is even looking to implement some sort of messaging system where players can leave notes for each other, apparently.
No Man's Sky is expected on PC and PS4 in 2015.