Weekly MMO news round-up: Chinese gender-bending, Aion changes, Star Trek, AoC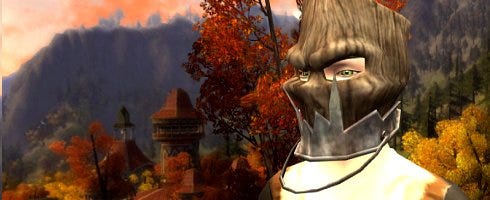 This was a rather large week in MMOs as far as news went, and not all of it was Halloween related.
Past the break you will hear all about how Ultima Online is still going strong, get familiarized with the new patch for Aion, read up on Cryptic's Blood Moon event via a dev chat, PvP henchmen and Guild Wars, Alganon's delay, China's ban on males playing females in games, and many other bits of stuff that didn't hit the front page during the week.
Also, we hope everyone who plays MMOs enjoyed the Halloween and Fall festivities that their particular favorites hosted. Loads had celebrations, more than likely every single one of 'em. If we forgot to mention your particular game, head on over to the list through the link ther and add it in the comments section so that we may give it its proper shout-out.
Funcom has handed over 20 new images (be sure to check page two as well) from Age of Conan: Hyborian Adventures for Xbox 360 to Gamespot. The console version of the MMO is expected sometime next year. While we're on the subject of Conan, the most recent update to the game not only added the Nights of Lost Souls event, but a Veteran Points system and a brand new dungeon. With Veteran Points you gain points the longer are subscribed and can use the points on an extra inventory bag, a potion to reset your character, skill training, or even breast augmentation for your female character or thicker veiny muscles for your arms if you are male. Great stuff there, and it's all detailed through the official site via the latest newsletter. Funcom's Erling Ellingsen has promised more incentives are on the way, but was not ready to divulge exactly what the plan is just yet while having a chat this week with Eurogamer. Also, one last thing: a new Wiki of sorts has been added to the official website, which will allow users to keep track off all updates, new additions, and plans head gamers ways.
Those who've been looking forward to Alganon's October 31 launch may have noticed when trying to log in that the game has not launched yet. That's because it has been delayed until December 1 in order for the developers and testers to refine and tweak the game a bit more. The good news about the delay though, is that to make up for it, all who preordered the game before October 31 will get a free month of subscription time to compensate for the missed release. Not too shabby of a deal there.
Brian "Zombie Columbus" has a new developer diary posted over on the official site for LOTRO. IN part five, he discusses the new Skirmish system coming in the December add-on, Siege of Mirkwood, an focuses his talk on the rewards system, marks, traits, vendors and other things you need to know before venturing forth into the dark forest.
Those wanting to try out Champions Online were blessed with a free-to-play weekend in order to see what they were missing. Hopefully all who wanted to, got in on it, but if you think you missed out - don't worry. You have until November 2 and you will also be able to participate in the Blood Moon event. If you are still on the fence, Cryptic hosted a dev chat this past week, and you can read it through here and find out all you need to know on the superhero game. Also, if you logged in on October 27, you were given a free Retcon which is a very valuable commodity.
Massively has found this awesome video that can only be described as pure propaganda from the Klingon Empire. No, it's not viral marketing from Cryptic toting its upcoming Star Trek Online MMO, but that's no matter. It's still awesome and totally communist looking. It's in all Klingon, the domain it is registered to is in Klingon, and it makes us want to join up with the courageous warriors with heads that look like a fanny.
It looks as though some designers who create virtual items and sell them through Second Life were victims of having scripts from their items stolen and recreated and dispersed throughout the game. Linden Labs is trying to get stuff like this to stop happening by using blacklisting methods, but it seems that some are finding ways around it. Massively have explained what is going on through here, and you can read the pot that brought all this to light here from the maker of Strokerz Toyz.
Aurora Technology, the developers of King of the World, are banning male players who play as female characters in China. In order to continue playing the game, players have to prove their gender via webcam. Yikes. So far, this is only happening in the one game, but according to GamePolitics, Aurora is a subsidiary of Shanda, which is the publisher for Aion and D&D Online in China, so the restrictions could eventually spread to those games as well.
A new add-on for Bounty Bay Online called Beyond the Horizon goes live November 25. In it, five new ship types are being introduced to an individual character classes and can be obtained through new cities of the north and south American continents to higher level players. All of the ships are different from one another in not only looks but cargo capacity, manoeuvrability, size of crew and by the number of cannons. This is the third add-on to the game and features the new continent of South America, six new cities, five new character classes, new instances, an expanded pet system with new pets, new PvP arenas and tournaments, new ranking systems and a new mini-game all for free. More through here.
Runes of Magic Patch 2.1.2, Storming of the Acropolis, has been released. It paves the way for players to journey into the Naga Empire and adds the Halloween Pumpkin Festival with elite skills for the Elf classes and a territory expansion for the Aotulia Volcano zone. Full patch notes can be found through the official site.
ArenaNet updated Guild Wars this week with henchmen being added to the Guild Hall and Heroes Ascent. So far, Heroes have been removed, but community manager Regina Buenaobra said that programmers are looking into enabling Heroes again. Read up on the full thing here.
The City of Heroes team talked all things Going Rogue over on the official forums this week, and for those of you wondering just went this wonderful transformation will take effect, should fret no longer. The release Release is currently targeted for Q2 2010, with a Beta starting early 2010. First dibs for Beta attendance will be handed out in the following order: Friends & Family, Hero Con attendees, 5-year veterans, Loyalty Program participants, those who preorder Going Rogue. Also outlined in the post were Ultra Graphics, new Powersets, Praetoria, the Going Rogue system, new Factions and other juicy bits of info. It's all through here.
Over on 1UP, there's a preview of LEGO Universe, which talks about the game's progression, building quests, along with the ability to have different themes such as Star Wars planets, ninjas, robots, and pirates. There's even a nifty little video.
The newest Final Fantasy XI add-on, A Shantotto Ascension: The Legend Torn, Her Empire Reborn is expected to land on November 9 and is currently available for for preorder. It will introduce Doctor Shantotto, just in case you didn't figure that out already. BigDownload has a video of it here.
Tim Cotten, lead designer for Ultima Online, has told Gamasutra that despite its age and the multitude of competition out there, the game is still going strong with its rather large "core player base". Cotten also said that more expansion are planned in the future, as the timeline is still not used up yet. Full thing through the link.
Lost Saga is now in open Beta. Featuring playable heroes, including everything from boxing champs to iron knights, pirates to ninjas, and even cowboys to dark shamans, if you want in on the free-to-play game's Beta, more information and sign-ups are through here.
Aion has tentative patch notes released this week for players to preview the new update before it hits. While the patch is still a ways off, the notes mentioned that experience is being addressed, new repeatable quests focusing on crafting are on the way as well as extra experience for gathering and crafting, and a reduction in experience penalties for group quests are on the way too. There will also be increased drop rates in several areas and a lot less of a grind. Thankfully. No word yet on a release date for it, but the full preview can be found over on the official site.
The free-to-play action RPG, Dungeon Party, got a major update that added the Engineer, Rider and Amazon classes, ten new dungeons, a dungeon editor and a new environment to allow the creation of custom levels. Get the client here.
DC Universe Online's creative director, Chris Cao, was interviewed with DCUO Source this week. In the video, he chats about how the development team has approached building the game's design, how player feedback impacts the development, how the game handles secret identities, and all other things you need to know if you plan on playing it.
Over on Massively, there's a transcripti of a chat with the Fallen Earth content team lead, Marie "Arosei" Croall. She discusses many things planned for the game, one of which was in-game housing. Other tidbits about plans for an upcoming patch are in there too, along with a lot of banter about horses, glue, and giant chickens.
SOE has sent over 12 screens for EverQuest II's latest event, Nights of the Dead. The celebration runs until November 9 and there will be trick or treating and the haunted mansion in Qeynos and Freeport. There will also be decorations all around Norrath, and Ponchy will be offering up his quest in Antonica. Cool. Enjoy the screens (sorry about the header image in there - gallery auto adds it in, and it's from LOTRO, not EQII).
Cryptic has release part two of its Star Trek Online:The Future Past video series. It's more timeline stuff, full of Romulan, Federation, and Klingon goodness. It's below, courtesy of Gamespot.