CCP shuts down Vampire: The Masquerade - Bloodlines fan remake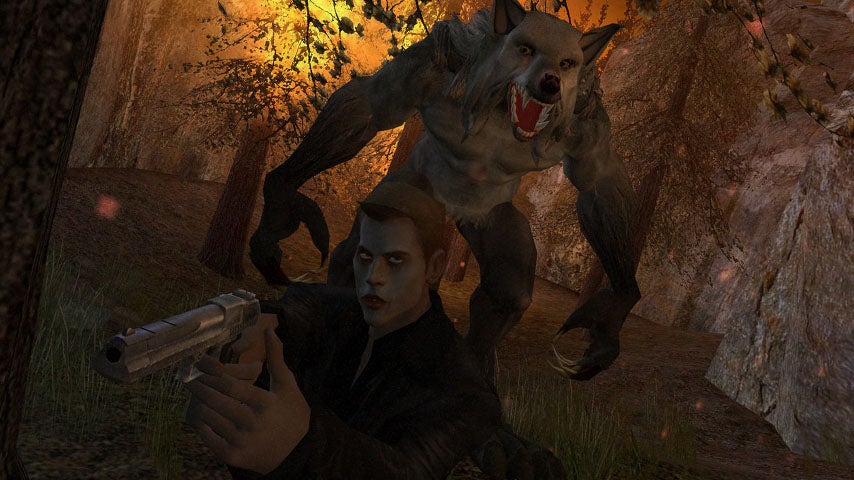 Vampire: The Masquerade - Bloodlines fan remake Project Vaulderie has been emphatically shut down by a cease and desist from CCP.
Vampire: The Masquerade - Bloodlines is hailed as one of the best examples of storytelling in modern western RPGs, but its troubled development resulted in a horrible launch. Although fans have since rallied round and patched the old girl up, time has not been kind to her, and many gamers have just completely missed out on Troika's wonderful swansong.
That's why we were all very excited for a fan remake of Bloodlines in the Unity engine, but according to the Project Vaulderie website, the whole shebang has had to be cancelled following legal stirrings from EVE Online developer CCP.
A cease and desist, published in full on the linked site, makes it clear that CCP is not at all interested in letting Project Vaulderie go ahead, regardless of its non-commercial status. The developer has asked the team to remove any and all references to and material from Vampire: The Masquerade and Bloodlines, from both the website and the project.
"In a disappointment shared among our team we are complying with that request," project lead Arthur wrote.
"All of this invalidates our effort and the meaning of the entire project: as a remake of Vampire the Masquerade: Bloodlines cannot be a remake without its original contents."
Arthur said that the Vaulderie team had been in touch with former Troika and White Wolf staff, who had been supportive of the project. In fact, the team's contact at CCP had referred them to Activision to seek permission for the remake project, and a pitch was in the works.
"This contact we knew from CCP has since left the company," Arthur said.
Not all hope is lost; Arthur said the team is "avidly seeking a resolute course to continue working on a future game", but can't give any details at present. This has not gone down well with those who donated to help the project, understandably.
It's a real shame to see Vaulderie go considering significant progress has been made, and bitter news for Vampire: The Masquerade fans, who have felt a bit neglected for many years.
If you're not familiar, Vampire: The Masquerade is one of a series of connected pen-and-paper role playing universes by White Wolf collectively referred to as World of Darkness. The system was later replaced by Vampire: The Requiem when the entire World of Darkness setting was rebooted.
Releases in the New World of Darkness setting slowed down considerably after White Wolf merged with CCP, and CCP's planned World of Darkness MMORPG was cancelled. Luckily for fans of old school role playing, White Wolf has become much more active over the last few years, releasing lots of new materials through its Onyx Path publishing label and even leveraging print-on-demand to bring back the Old World of Darkness back catalogue.
If you can bear the ageing graphics, Vampire: The Masquerade - Bloodlines is available on Steam. Grab the latest fan patch to smooth out its many foibles. Alternately, Eurogamer has a pretty good retrospective to bring you up to speed.