Unreleased Simpsons game found on Dreamcast dev kit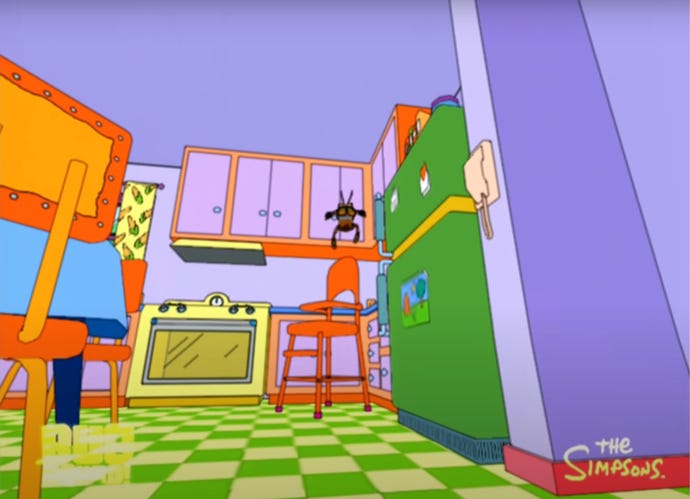 A tech demo for an unreleased Dreamcast game called "The Simpsons: Bug Squad!" has been found on an old dev kit.
The game, which was in development at the long-shuttered Red Lemon Studios, has been shared on the DreamcasticChannel on Youtube after a Dreamcast-Talk forum user called sreak found this demo on a Dreamcast dev kit's hard drive (thanks, The Dreamcast Junkyard).
As far as we can tell, the game appears to have been long forgotten until this point – and you can kind-of see why. A Simpsons game in which you play as a bug? It's a strange concept, for sure, but would make for a perfectly cromulent game.
The game files actually contain a playable build of the title. Gameplay casts you as a small bug that inexplicably lives in the Evergreen Terrance household. The game files date back to 2000 and looks like it was built to show off the 'Toon Render' engine.
Beyond that, there isn't an awful lot of information about the title. We can see the cel-shaded graphics in the title really work with the style seen in The Simpsons' TV episodes, though. The 'Toon Render' engine really helps to embiggen the game's graphics.
Perhaps the title was inspired by Bart's unfortunate experience with a teleportation machine in 'Fly vs Fly', a short in the show's Season 9 episode, Treehouse of Horror VIII, back in 1997. We may never know for sure.
Files for the beta of Take the Bullet, a first-person shooter game also developed by Red Lemon Studios, were also found on the hard-drive.
If you're still hungry for more Simpsons video game content in 2020, you're in luck: The Simpsons: Hit and Run has been recreated in Dreams, and somebody also made a playable version of Lee Carvallo's Putting Challenge, too.