The Witcher 3: Blood and Wine - Where Children Toil, Toys Waste Away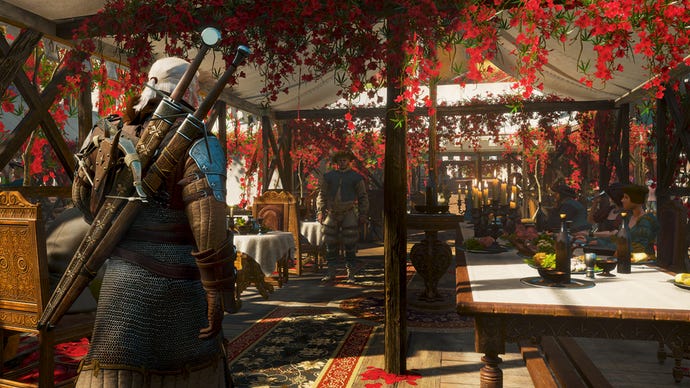 A short quest with little aciton but some very important story developments.
The Witcher 3: Blood and Wine - Where Children Toil, Toys Waste Away
Since you have to head back to Beauclair Port to continue the main quest this is a natural point to do some side questing if you want to level up a bit and refresh your inventory after the last few greulling battles.
When you're ready, head to the way point and confront the angry men. They're level 41 but if you guard and hit once then guard again you'll have no trouble with the fight; any Fists of Fury veteran will be fine, and there's no need to use Signs or swords. At the end you can tell the guards there was a misunderstanding to end the situation without further fuss.
In the conversation with the bootblack which follows you can use maxed-out Axii or negotiate a fee for information. However you frame your interrogation, Regis turns up to help. Follow him to the marked location. Regis helps you out again here. Best companion ever?
Inside the house, there's some minor loot on the ground floor, but most of the items here just prompt musings from Geralt. Upstairs, you'll find a Suspicious Letter in a loot box. After the cutscene, look for the Letters Naming the Beast's Victims in a corner.
That's the end of this quest, and the beginning of Wine is Sacred. Before you go you can grab some minor loot from the upstairs room, and have a chat with Regis if you want.