Super Smash Bros. Wii U/3DS guide - best characters for beginners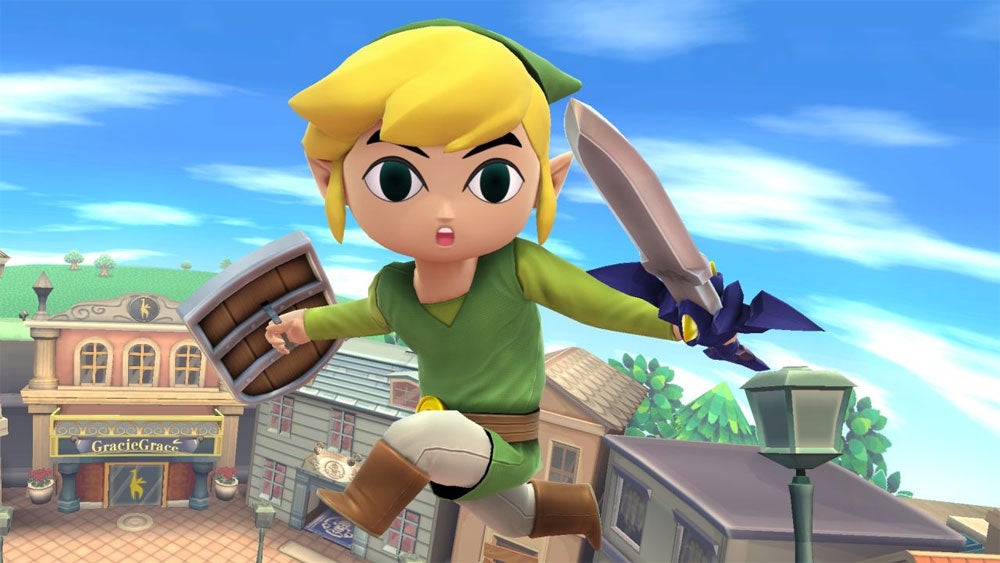 Super Smash Bros. 3DS is go! Get started with these easy-to-play characters.
The best Super Smash Bros. Wii U/3DS characters for beginners
Super Smash Bros. birthed the brawler in 1999. The Smash series games can be classed as fighters, but they bear few similarities with traditional fighting games such as Mortal Kombat and Street Fighter. If Super Smash Bros. 3DS is your entry point into the series, the mechanics and giant character roster can be intimidating.
Luckily, there are easy ways in, as some of the Super Smash Bros. 3DS characters are easier to use than others. While some require a lot of practice thanks to high learning curves, others have special moves and tactics that can be mastered with minimal practice.
These are they.
Mario
Mario is one of the best-known game characters globally, so it makes sense he's should be user-friendly. His Fireball projectile attack can keep opponents at bay, and he has a Cape that deflects enemy projectiles. He also has a Super Jump Punch that's great for ending combos, and his F.L.U.D.D. water cannon is useful for clearing opponents away from you.
Use Mario's Up Tilt at close range to start easy combos. For instance, use Up Tilt several times before ending the combo with Up Smash or the Super Jump Punch. The number of hits will vary depending on the opponent's damage percentage, but this is an easy combo to perform on any close-up opponents.
Mario's recovery options aren't the best, but a combination of the Cape and Super Jump Punch is effective in making your way back to the stage. The F.L.U.D.D. gun and Fireballs can be used to prevent opponents from recovering.
Bring all this together and you have a character that's relatively easy to play, but can still deal heavy damage.
Villager
Animal Crossing is a ridiculously easy game to pick up and play, and Super Smash Bros. 3DS's Villager is borne of the same mentality. You'll find him easy to use, but he packs a fair bit of competitive power.
One of the Villager's most attractive assets for the beginner is that he can catch projectiles and reuse them later. The Villager's Pocket Special move lets him catch projectile attacks and "pocket" them. This is perfect for use against players who spend their time on the other side of the stage lobbing projectile attacks in your direction. The icing on the cake is that Villager's pocketed projectile attacks are slightly stronger than the original attack.
The Lloid Rocket Special move is good for recovery, but also works well to get out of dangerous situations, or simply to clear some room around you. Villager can shoot the Lloid Rocket like a projectile, or can actually ride it (hold B) to increase damage. The Balloon Trip recovery move covers a great deal of vertical distance when you get knocked off the stage, and both the balloons have to be popped to stop it. If you mash B, you'll move even higher into the air.
Link and Toon Link
At the highest level of Super Smash Bros. 3DS play, Link and Toon Link are very different characters, but they're virtually the same to the novice.
Both characters pack several projectile attacks, making them a good choice for new players. Stand on the opposite side of the screen tossing projectiles is one of the easiest ways to play Super Smash Bros. 3DS. Both characters have bombs, arrows and a boomerang.
Both Links have a Spin Attack to clear out any opponents that come close, a move that can be used in the air. Link's Smash Attacks work well at close range, with some of them having two hits: this'll keep opponents guessing about whether or not you'll drop the second attack. There's more: Link's Up Tilt allows for easy combos that lead the aerial Spin Attack, Up Smash or Spin Attack.
Link's throw can be slow but it has good range, and can be used to get back on the stage after being knocked off. Link's recovery options could be better, but they aren't the worst in the game. You can even use Link's projectile attacks to cover your approach as you recover.
Duck Hunt
Duck Hunt's move list shows he's a complicated character, but at a casual level he has all the tools you need to dominate. He has three projectile attacks, an awesome recovery move, good Smashes, decent Aerials and a reasonable level of speed.
Duck Hunt is one of the first characters you'll have access to that has three projectile attacks. You can spam projectiles at a casual level and see easy success. The Can and Wild Gunman are more complicated compared to the Clay Pigeon, but all three work. The Clay Pigeon is a more traditional projectile, while the Can is applicable in several setups and the Wild Gunman even shields Duck Hunt.
If you get knocked off the stage, you can use Can to recover. This works well together with Duck Hunt's recovery move. Use the Wild Gunman or one of Duck Hunt's Smash Attacks on up-close opponents. Duck Hunt's Neutral Aerial is one of the best in the game.
All of this is fairly easy to use as a beginner, but leaves plenty of room for advanced play.
Little Mac
Little Mac differs from the other beginner characters as he's a close-range fighter with no projectiles. He's handy because he has several options against projectile users. His Jolt Haymaker Special covers plenty of ground and jumps over projectiles in the process. This means Little Mac can easily punish opponents reliant on standing back and shooting projectiles.
Little Mac play is all about moving forward and engaging. His Forward Smash packs super armor, meaning it can absorb attack and still hit the enemy. His Forward Tilt will become your go-to attack when not using Specials or Smashes. You can even mash the A button to launch a flurry of close-range attacks.
When the Power Meter (above Little Mac's damage percentage) fills up completely, Little Mac is capable of dealing a monster KO Uppercut. Don't worry too much if you're getting punished with damage, as this increases the rate at which Little Mac's Power Meter fills. Be careful with the the KO Uppercut: don't use it right away, as opponents will be expecting it. Wait until they're occupied with other players, or trying to recover after being knocked off the stage.
Don't forget to check out the rest of our Super Smash Bros. Wii U/3DS guide for loads more information and tips.