Hey Pikmin, Arms release date, new Amiibo and all the other Switch and 3DS news and trailers from today's Nintendo Direct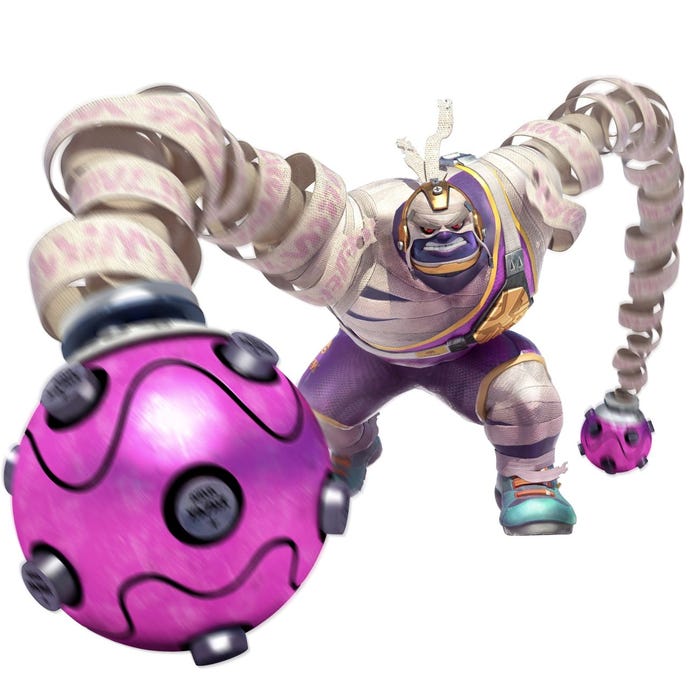 Today's Nintendo Direct delivered a lot of great news for 3DS and Switch fans.
Nintendo dropped a huge stack of 3DS and Switch news today. Let's try to get through it in a sensible fashion so we can all knock off for the holiday weekend.
Kicking off with major Switch release dates, then. Although Splatoon 2's release date was the biggest news, two other first-party Switch titles are launching before it.
Mario Kart 8 Deluxe releases on April 28. It will have more characters, carts, and tracks unlocked from the beginning than any other Mario Kart game to date.
Arms, Nintendo's motion control-optional versus fighter, arrives in Europe and North America on June 16. The fighter will be accompanied by three new accessories - a Neo yellow Joycon, a matching Joycon strap, and a battery life extender attachment.
New 3DS announces
It's Kirby's birthday, and to kick off a year of celebrations, Team Kirby Clash Deluxe has been released on 3DS. It's free, and you can play it right now. Check out a trailer above.
Similarly, BYE-BYE BOXBOY is out right now on 3DS.
For fans of ordering little creatures around, Hey Pikmin is releasing for 3DS in Europe and North America on July 28. There's no official trailer embed yet, but the capture above is the relevant portion of the Nintendo Direct presentation. A new Hey Pikmin Amiibo will launch alongside the game, on the same day.
Amiibo
Speaking of Amiibo, Bayonetta, Cloud and Corrin Super Smash Bros. Amiibo will release on July 21. There will be two versions of each Ammibo - a male and female Corrin, Bayo as she appears in the original game and then in the sequel, and Cloud in classic and fancy new outfits.
The three expected Legend of Zelda Amiibo were confirmed. Majora's Mask, Twilight Princess, and Skyward Sword Link all release June 23.
Take a look at some images in the tweets embedded below; you'll also get a look at the new Splatoon 2 Amiibo.
天使を狩るアンブラの魔女「ベヨネッタ」のamiiboは、『ベヨネッタ2』のショートカットバージョンと『ベヨネッタ1』のロングヘアバージョンの2タイプ。 pic.twitter.com/ELC43Yqx4D

— 大乱闘スマッシュブラザーズ (@SmashBrosJP) April 12, 2017
『ファイアーエムブレム if』から参戦した、竜の血族「カムイ」のamiiboは、男性バージョンと女性バージョンの2タイプで発売。 pic.twitter.com/FTsNbhVO9p

— 大乱闘スマッシュブラザーズ (@SmashBrosJP) April 12, 2017
『ファイナルファンタジーVII』からのゲスト参戦「クラウド」のamiiboは、コスチューム違いの2タイプ。もちろん髪型や武器もそれぞれで異なります。 pic.twitter.com/zn5gSQ83Wu

— 大乱闘スマッシュブラザーズ (@SmashBrosJP) April 12, 2017
[任天堂HP] 「amiibo」のページを更新しました。ゼルダの伝説、スマブラ、スプラトゥーンシリーズの新amiiboの情報を追加しています。 https://t.co/4b8qQg1Lmg pic.twitter.com/vUbLOTci5H

— 任天堂株式会社 (@Nintendo) April 12, 2017
Switch and 3DS release dates, April through "summer"
Nintendo put release dates and windows on a stack of Switch and 3DS games today.
Most immediately, Puyo Puyo Tetris releases on Switch on April 25, and a demo is available right now. Minecraft: Nintendo Switch Edition releases May 11, while Disgaea 5 Complete releases may 25, with a demo due very soon. Ultra Street Fighter 2: The Final Challengers follows on its heels on May 27. Fate/Estella releases July 25.
Oh, and a standalone Switch Dock will become available May 19, in case you need an extra.
The rest of the Switch games Nintendo discussed didn't get solid release dates, but are coming to Switch during northern summer: Sonic Mania, Project Mekuru, Namco Museum and Sine Mora Ex.
We have a trailer for Sine Mora Ex, which boasts local co-op and a versus mode. Below that you'll find one for Namco Museum, which bundles Pac-Man, Dig-Dug, Galaga, Galaga '88, The Tower of Druaga, Rolling Thunder, Rolling Thunder 2, SkyKid, Splatterhouse and Tank Force. It has leaderboards, a challenge mode and works in vertical mode.
On 3DS, look for Ever Oasis on June 23, RPG Maker Fes on June 27, and Culdcept Revolt August 29.
Sometime during northern summer we'll also get Kirby's Blowout Blast on 3DS. It has over 25 stages and will be available exclusively through the eShop.
Autumn, spring and winter 3DS and Switch releases
Although we didn't get a solid release date, Yo-kai Watch 2: Psychic Specters will release on 3DS in North America in northern autumn. It's the "definitive" re-release of the second Yo-Kai Watch game, with new yo-kai including wicked and Boss types to befirend, Darknyan's origin story, extra quests, an overhauled Blasters co-op mode, and the "ability to hop on the Hexpress to a new resort area.
Similarly, Monster Hunter Stories is on its way to Europe and North America in northern autumn. The 3DS exclusive released in Japan in October 2016, and is more story-driven than other Monster Hunter titles, which are hardcore action RPGs first and foremost.
Monopoly will arrive on Switch in northern autumn, too.
Battlechasers: Nightwar is also coming to Switch courtesy of THQ Nordic. Apparently it's a turn-based affair. It's releasing in "late" northern winter.
Sonic Forces will release on Switch over the 2017 holiday period, Nintendo said, reiterating Sega's messaging. (It's also coming to PC, PS4 and Xbox One.)
Nintendo's own Miitopia is coming west on 3DS, too, but Nintendo didn't give a date beyond 2017. The Switch port of Payday 2 is likewise dated for 2017.
Nintendo said more NeoGeo games are coming to Switch this year, including Samurai Shodown, but gave no dates.