Street Fighter 5 Fight Money guide: grinding EXP, extra battle and other methods to earn FM fast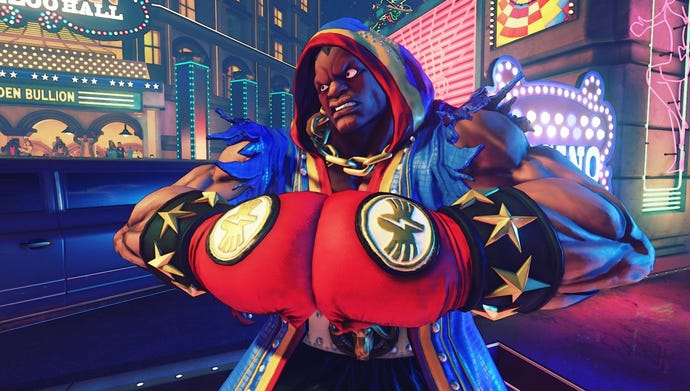 Earning Street Fighter 5's fight money will let you get new characters, stages and more - plus you can now wager it in extra battle. You're going to need to save up.
As it enters its fourth year and the launch of Street Fighter 5 Champion Edition, Capcom's flagship fighting game has an enormous amount of content to explore. There's the stuff you get on the disc or in your download including a wide range of characters, single-player arcade, story and challenge modes, online modes and more - but beyond that there's plenty of optional content. To get your hands on new stages, costumes and even characters for free, you'll need Fight Money.
The Fight Money system in Street Fighter 5 works a little like you'd expect such a system to work in a free-to-play game. The theory is this: once you've purchased one version of SF5, that's the only version of the game you'll ever need. Everything added to the game that impacts gameplay will be a free update - and if it isn't entirely free, you'll be able to purchase it with Fight Money, in-game currency that you earn simply by playing. The new Champion Edition upgrade DLC and full game package also includes a lot of this stuff as default.
If you want to get your hands on Seth this year, for instance, you can either save up enough fight money to buy him or if you prefer pick him up as regular, cash-paid DLC. Simple, right? Many people will have picked up the Championship Edition upgrade or the full SF5 Championship Edition game for real cash, which includes a lot of the content in the game - but FM can still be used for future costumes, plus unlockables like new color schemes for costumes and special iconography to decorate your online profile.
Fight Money can also be spent in a variety of other ways - on additional stages, new character costumes, alternate colors for the costumes you already own plus more cosmetic things like extra packs of background music for battles and profile designs to show off when somebody looks up your Capcom Fighters Network profile.
As well as the new content released as DLC, there's also Fighting Chance - a random-chance lootbox style feature that works similar to other games like Overwatch. Fighting Chance is home to some exclusive throwback costumes that let you dress characters like Cammy and Nash up as they were in niche Dreamcast and Arcade dual-stick shooter and SF spin-off Cannon Spike, for instance, or classic Street Fighter 2 style variations for characters like Dhalsim and Vega. These costumes can't be obtained elsewhere. As well as all this, Fighting Chance unlocks items for the customizable Dojo stage, costume colors, concept art for the game's museum section and consumable battle items you can use to make survival mode easier. Fighting Chance can be entered with FM - and you can't spend real money on it.
The catch with Fight Money is that it's actually quite hard to come by. This guide page exists to help you out if you're trying to figure out what the best way to earn or grind Fight Money is - this'll help you to fill your account, and once you do, you can go on a DLC spending spree - though you'll need to pick and choose carefully if you don't plan to spend any real money.
The best ways to earn Fight Money in Street Fighter 5 Champion Edition
Here's how to stock up on Fight Money in SF5 by playing through regular modes without any specific considerations and without worrying about missions...
Level up Characters for 1000FM per level
The most natural and regular way of earning Fight Money in Street Fighter 5: Champion Edition is to level up your characters. Every single one of the game's cast has their own unique character level on your account, and the more you use a character the higher their character level will climb. Each time you gain enough experience points and level a character up you'll be rewarded with 1000 Fight Money.
There's now a lot of modes in Street Fighter 5, and more or less everything you can do with any given character will earn you experience and thus in turn Fight Money. The base game has 40 characters you can level up, so that's a lot of potential for leveling up.
You can get EXP through pretty much everything any character can do. Character Trials will earn you EXP, as will even watching the hands-off Character Demonstrations in the Trials section. Character Stories and Survival Mode on each difficulty for each character will also reward varying amounts of EXP. Try to complete every character demonstration and trial for maximum EXP, and if you're really desperate hit up Survival Mode - the higher the difficulty, the more EXP you'll be given at the end of it. Items obtained in Fighting Chance can be used to make Survival Mode much, much easier, as they can heal you or power you up between rounds.
Online battles, too, will gift you experience - and keep an eye out for special Extra Battles, as some of these will give you tens of thousands of experience in exchange for winning a single hard AI battle.
Fight Money from Character Stories - and a note on other the Cinematic Story
Back in the regular, vanilla version of Street Fighter 5 completing modes like the Character Story or the General Cinematic Story would net you a one-time Fight Money bonus. This is no longer the case in champion edition, but as mentioned above Character Story modes will level up a level 0, unused character significantly.
Completing the character story of every single character included in Champion Edition will net you the better part of 350,000 Fight Money just from how much they level up alone. Keep this in mind. The same rules apply to survival mode.
The removal of the raw one-time fight money bonus from Cinematic Story Mode means there's no actual reward for playing that mode any more, since it's one of the few modes in the game that doesn't reward character EXP.
Earning Fight Money via Missions
Street Fighter 5 is a sort of 'game as service' game, meaning Capcom's always behind-the-scenes tweaking and changing things to keep players on their toes. One thing that changes regularly are Missions, which can be found under the Challenge part of the main menu and are shown to you every time you boot the game as a reminder.
Sometimes these are simple, asking you to do something like play a particular mode or perform a particular action within a match. Some are more cryptic, giving you a clue and leaving you to figure out exactly how to complete it. Thankfully, we're here to assist with that and have a whole Street Fighter 5 Missions Guide for you to peruse.
Extra Battle Mode: wager down for big FM and EXP prizes
Extra Battle mode is another one of those rolling update elements of Street Fighter 5. Unlike the Missions above they change far less frequently, however - Capcom is currently promising that missions will roll over with new rewards monthly. As well as the option to earn unique Capcom crossover costumes that can't be picked up any other way (You can dress Rashid as Viewtiful Joe, for instance, or Nash as Captain Commando) some of these missions also provide massive experience or Fight Money rewards.
There's a catch here: you have to actually pay fight money to enter these battles. The fight against Shin Akuma pictured above, for instance, requires you to put down 1000 Fight Money to even face him - and that's the cost per attempt. He's a super hard AI enemy, but if you can take him down you'll be rewarded with a unique title you can use on your online profile and 10,000 EXP - enough to surely give you a fair bit of Fight Money from character level gains.
Some challenges will be multi-part, requiring you to beat multiple opponents over the course of a couple of weeks before you get the full rewards. Keep an eye on this section (found under the Challenges area of the main menu) and tackle any challenges you think you're able to for big rewards!
How much do things cost?
So, you've earned fight money - what can you get with it? Below, we list how much things cost in both Fight & Real Money... but keep in mind if you've picked up SF5 Champion Edition a lot of this content is included - every character and every stage, for instance. Things like Costume Colors, profile designs and titles are still used for Fight Money, however, as well as Fighting Chance, which has a chance to unlock costumes.
New Characters: 100,000 Fight Money / $5.99 / €5.99 / £4.99 (or all six for $39.99 / €39.99 / £24.99 in Season Pass)
New Stages: 70,000 Fight Money / $3.99 / €3.99 / £3.29
Story Mode Costumes: 40,000 Fight Money / $1.99 / €1.99 / £1.69
Stage Variations: 40,000 Fight Money / $1.99 / €1.99 / £1.69
Costume Colours: 2000, 5000 or 10,000 Fight Money
Profile Titles: 5000 Fight Money
Profile Designs: 5000 Fight Money
Fighting Chance: 10 Draws for 4500 Fight Money, 1 Draw for 500 Fight Money