Soul Fighter event set to mix up League of Legends, Legends of Runeterra, and Wild Rift July 20
Fighting game themed cosmetics, in-game events, and minigames. Curiously at a time we're expecting Project L news...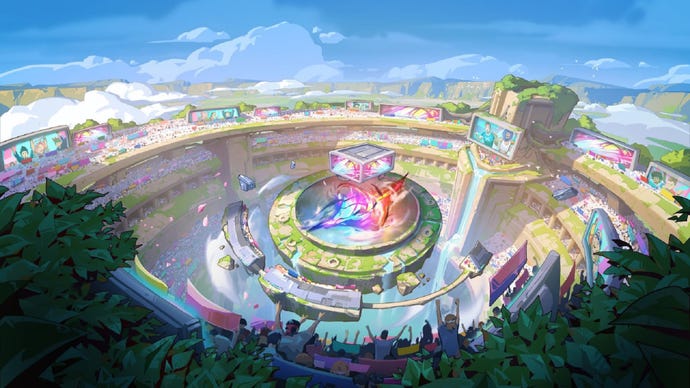 The Soul Fighter event has been announced across multiple Riot Games titles, bringing fighting game themed cosmetics and in-game content to the world of Runeterra starting July 20.
This means if you're a League of Legends, Teamfight Tactics, Wild Rift, or Legends of Runeterra player, you'll be able to net yourself some limited-time rewards during a hard-hitting period in the Riot Games calendar. It'll also drop alongside some more general additions, such as a new champion and balance patch.
League of Legends is getting a brand-new game mode: Arena. This has four teams of two players battle it out in a small map, allowing for super short, combat-focused matches that fits with the fighting game theme. this is the first new game mode for League of Legends in years, which is a huge deal for those who are a bit burnt out with the classic 5v5 matches.
In terms of new cosmetics coming to League, you have the following:
Soul Fighter Samira (Ultimate skin)
Soul Fighter Viego (Legendary skin)
Soul Fighter Naafiri
Soul Fighter Shaco
Soul Fighter Pyke
Soul Fighter Sett
Soul Fighter Lux
Soul Fighter Jhin
Soul Fighter Gwen
Soul Fighter Evelynn
Prestige Soul Fighter Shaco
Prestige Soul Fighter Pyke
There's also the Tournament of Souls in-game event, which is a combo battler you can participate in through playing games of League of Legends. Through it, you can defeat numerous enemies and grab yourself some cool prizes. Also, there's a battle pass you can progress through too.
What about the other games? Teamfight Tactics gets its own slick new game mode, as well as new cosmetics and a narrative experience. Wild Rift gets a new game mode too, in the form of Tag Duel, and Legends of Runeterra gets a collection of card skins, a battle pass, and some new emotes and card backs.
"We're really excited for the range of different experiences across the League of Legends ecosystem that make up the Soul Fighter event," said Andrei van Roon, Head of League Studio. "Arena, Soul Brawl, and Tag Duel will let players experience League of Legends, Teamfight Tactics and Wild Rift, respectively, in new ways that we think bring something really fresh to the table. We can't wait to see what players think once they get their hands on them."
What's funny about this reveal relates to the elephant in the room: Project L. As a fighting game inspired event, a lot of people saw the slick new trailer for Soul Fighter and had a moment of "oh s**t, Project L stuff"! This is not the case, however it does seem to be coincidentally running over Evo 2023. Evo, the biggest fighting game event of the year, has typically come with Project L reveals and news. As such, many are looking to the show for a special announcement.
What are you thoughts on this event? Let us know below!