SOCOM 4 multiplayer mode gets a sneak peek, details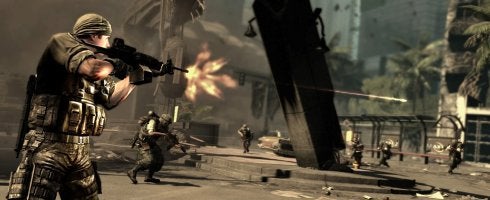 Zipper Interactive's lead game designer for SOCOM 4, Travis Steiner, has said the development team tried to maintain the heritage of the series' competitive multiplayer elements with the latest game, while at the same time redefining it.
Speaking with Gamespot during a multiplayer preview, Steiner said that while the game is "major evolution in the franchise," the key with developing it was to stick to the core foundations that made SOCOM successful in the first place: "team focused gameplay, authenticity, and innovation."
"I think, day one with SOCOM 4, we wanted to do something fresh and new, almost all new game modes," said Steiner, "while still maintaining [the game's] key elements and particularly the team focused gameplay.
"One of the big game modes we're excited about is called Last Defense. Each team is trying to gain control of control points in the middle of the map, marked A, B, and C. If either team is able to capture all of those, portable satellite dishes at each will triangulate the location of the enemy base, and then goes into the timed Last Defense phase where you as an attacker have two minutes to get in there, organize strategically with the team, and plant an air strike beacon on the enemy base."
According to Steiner, as a defender in this mode, if you and your team are successful in defending the base, then your team wins the round and the mode is reset.
You can hear all about this mode, as well as more on SOCOM 4: Navy SEALs through the video below. It's out in the US April 19 for PS3, and GameStop has an exclusive pre-order map available for it. Watch the multiplayer trailer here.
No word on a date elsewhere in the world, but it will be called SOCOM 4: Special Forces outside the US.