Red Dead Online players get a XP boost this week in Frontier Pursuits and Legendary Bounties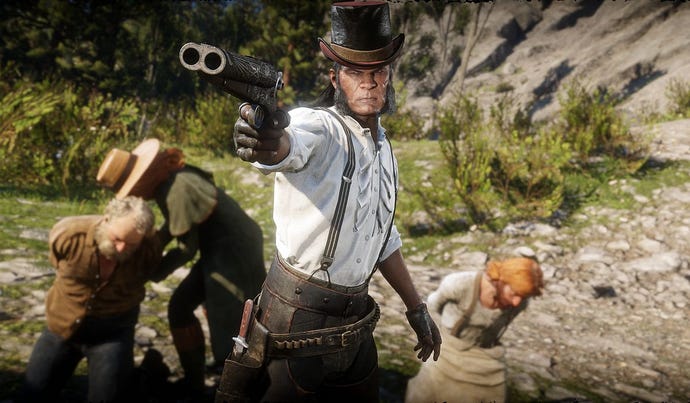 Red Dead Online players can earn XP bonuses this week in specialist roles including Legdary Bounties, Bootlegger missions and more.
Players in specialist roles this week can earn a 40% boost this week in Red Dead Online.
Roles such as Trader, Collector, Bounty Hunter, and Moonshiner will earn the boost in general XP and role XP.
Here's the rundown:
Moonshiner: 40% XP & Role XP boost on all Sales, Moonshine Story and Bootlegger Missions
Bounty Hunter: 40% XP & Role XP boost on Bounty Hunter Missions, including Legendary Bounties
Trader: 40% XP & Role XP boost on Sales and Resupply Missions, as well as making Stew in your camp
Collector: 40% XP & Role XP boost on sales of complete Collection sets
Speaking of Moonshiners, if you chose that role, you can take 5% off the price of all Moonshiner Properties. This includes property relocation fees. You can also update your place with a Bar Expansion and decorate it with customizable Bar Themes.
This week, Madam Nazar wants you to bring her the Lovers Collection. It consists of a Chocolate Daisy, Two of Cups Tarot Card, and the Yellow Gold Diamon Ring. Bring all to her for a reward.
If you are looking for new duds this week, the catalogue has been updated. Permanent additions include the Charleston and Reaves Top Hats and the men's Caugherty Shirt. The Morning Tail, Irwin and Eberhart Coats, and the Furred and Woodland Gloves are also available for a limited time.
Other deals this week include a 5 Gold Bar discount on a Bounty Hunter License, Butcher Table or Collector's Bag. You can also tale 30% off the Stew Pot and Weapons Locker.
PlayStation Plus members this week will receive three Free Mash Refills and Trader Resupplies. If you connected your Social Club account with Twitch Prime, you will receive the Collector's Bag and Polished Copper Moonshine Still for free.
Have fun this week, cowpokes.