Rain World: a ray of indie sunshine in a murky January - interview

Rain World creators Joar Jakobsson and James Primate tell VG247's Dave Cook how a simple sprite test evolved to become one of the most intriguing Kickstarter-funded games in recent times.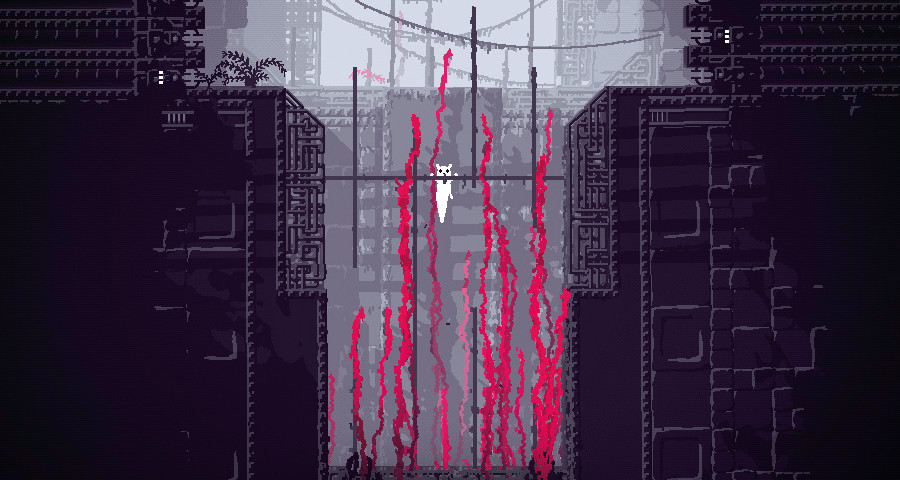 Success can often come from the most unlikeliest of places. Joar Jakobsson started his career in Sweden as a graphic designer before trying his hand at game programming, and over three years ago, taught himself how to create movable sprites around a screen for fun. You'll find his body of previous work here.
While speaking with me over email, he humbly professes to not playing many games and to having little insight into the industry, stating that he now feels, "flattered, excited, overwhelmed and terrified," to be working on his full game project Rain World. From what we've seen so far; he's got little to worry about.
It all began when the aspiring creator designed a strange little feline creature with an oddly-elongated body. The beast didn't have a name or a backstory, but it was quickly christened 'Slugcat' by one of Jakobsson's YouTube viewers, and the name has stuck internally ever since. In actual fact; it doesn't have a name, but for the sake of reference it fits like a glove, given the way it slithers around its post-apocalyptic hunting grounds, before leaping between handholds with cat-like grace.
"I have always liked ugly environments," Jakobsson told me when explaining the game's dark visual style. "An abandoned building is a remnant of human activity and human thinking, and you get a different idea about who we are from just looking at what we've built than if you talk to any one of us. This might be the reason why the post-apocalyptic trope is so popular; wandering around the skeletons of human activity tells a slightly different story about us, and it's always interesting to hear something new about yourself.
"What's slightly different in Rain World is that it's not really a human industrial environment, but rather just some kind of weird abstraction of an industrial environment. James [Primate], my partner on the project, described what this is supposed to accomplish very well - he said that the creature you play is a tool-using animal on the verge of making sense of this weird artificial environment around it. The same feeling as the protagonist has should be experienced by the player; you should be able to almost recognize objects, almost understand what these rooms and machines where intended to do."
It's an odd, bleak world that - while industrial on the surface - follows the laws of the jungle, with the eponymous Slugcat creatures typically hibernating in the ruins of grand, crumbling buildings to escape the unrelenting rainfall and in an attempt to evade predators. The game takes place during hunting season, and forces the player out into the urban wilderness to scavenge for whatever food they can find, but while there are smaller creatures to be consumed, there are also much larger and more aggressive beasts stalking the landscape. If they see you they'll give chase; no questions asked.
"Enemies can be defeated, but it's very difficult," Jakobsson warned. "The idea is that it should take a few hours of playing before you're able to defeat your first enemy, and then you should need to utilize stealth and wit rather than just quick reflexes. Until then, stay hidden, and if that fails, run." As you can see from this alpha GIF, the Slugcat can hurl debris and generally be a little sneaky when it comes to keeping hordes of hunters at bay, not to mention an aptitude for twitch gameplay. Watching the short clip definitely brings back harsh memories of Super Meat Boy's crushing difficulty.
But the footage also bears a similar pixel-art visual style; a common feature of the indie new wave. Rain World is both bleak and at times, beautiful, and it's all been crafted by Jakobsson himself. "I do the art, programming, design and so on, while James does the music and most of the communicating with the outside world," he explained. "The levels are rendered by a stand alone level editor, which uses hand drawn graphics and melts them together into one coherent image using filters.
"So for example, after having drawn a specific machine part I'm able to place it in the level editor, and it will be rendered correctly into the world, casting a proper shadow. The level editor has a voxel-like method of creating a little bit of impression of depth. Plants, chords, chains and other details are added as custom 'filters', you basically draw with a brush to decide what parts of the map should have what density of these features."
The ravaged landscape is further complemented by Primate's low-fi electronic soundtrack, that should come as a pleasant surprise for fans of Disasterpeace's work on Polytron's Fez. He's one half of chiptune duo Bright Primate and has previously provided scores for Junk Jack X and Gnomoria using hacked Gameboys and other tools. Here's a sampler, should you wish to give it a listen:
Primate explained his musical inspiration when penning the Rain World score, which I suggested was 'eclectic.' "One of the many things that I really love about Joar's art for Rain World is the layers of different styles that are present," he said. "It's industrial, but also sci-fi, but also jungle, with a mix of languages and architectures. It gives the world a really 'lived in' look, as if many different cultures lived in that area at different times all leaving their mark. That's kind of what I'm trying to achieve with the music, and your comment about it being 'eclectic' makes me very happy.
"In the game itself, I'd like for the development of the music to be part of the journey. There will be no language or dialogue in the game, so the music must do some of the storytelling work. In the beginning, its very directed toward highlighting the mood and emotion of the character of the Slugcat, and thus is very 'primitive': spare drum beats and synths to convey the beating of the creature's heart, feelings of apprehension, hunger and fear. But as the game develops, the music begins to describe the new landscapes that are discovered and events that are taking place."
Presently, Primate added that the soundtrack is currently sitting at 15 tracks amounting to over an hour of music, but will grow significantly before launch. In fact, all of Rain World is growing as you read this. Jakobsson touched on the content so far, explaining, "The game is divided into a story mode and a custom mode. The custom mode supports multiplayer with game pads, and has several different challenges and versus game types that are not really canon, but just for fun."
It will be interesting to see how Rain World evolves from here, and judging by how far its two-man creative team has come in three years without funding or a large team, the addition of Kickstarter funds and the aim of hiring a C++ pro can only benefit the project further. We'll be keeping a keen eye on Rain World as it progresses. For now however, let us know what you think below.