Protests and criticism mount for Blizzard following Hearthstone Hong Kong suspension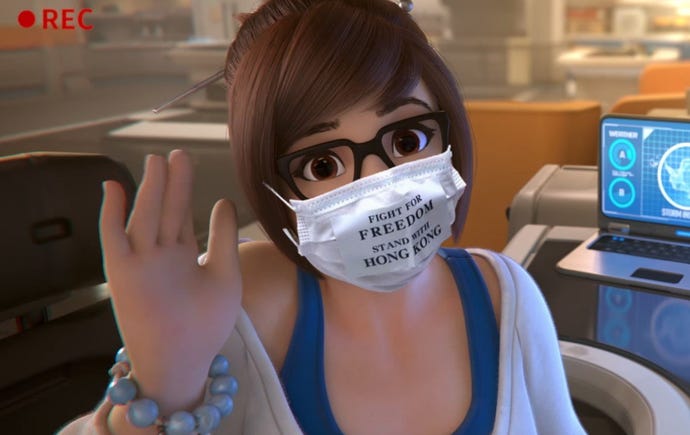 Employees of Blizzard are protesting their bosses following the contentious decision to remove Chung "Blitzchung" Ng Wai from the Hearthstone Grandmasters and rescind prize money.

Two of Blizzard's stated values, engraved on a statue at the company HQ, have been covered up by employees in a small scale protest.
Not everyone at Blizzard agrees with what happened.

Both the "Think Globally" and "Every Voice Matters" values have been covered up by incensed employees this morning. pic.twitter.com/I7nAYUes6Q

— Kevin Hovdestad (@lackofrealism) October 8, 2019
Those values are "Think Globally" and "Every Voice Matters" and are detailed on Blizzard's official site:
Every Voice Matters: Great ideas can come from anywhere. Blizzard Entertainment is what it is today because of the voices of our players and of each member of the company. Every employee is encouraged to speak up, listen, be respectful of other opinions, and embrace criticism as just another avenue for great ideas.
Think Globally: Everywhere on the planet there are people who play Blizzard Entertainment games. While respecting the cultural diversity that makes people unique, we strive to grow and support our global gaming community. We also seek the most passionate, talented people in the world to enrich our company and help us forge the future vision of Blizzard Entertainment.
Protests by pro-democracy movements in Hong Kong have been ongoing for 18 weeks, originally rallying against a controversial extradition law, and have become increasingly violent.
Blizzard's decision to shut down voices within its own community has been roundly criticised by the gaming and development community, with the #Blizzardboycott hashtag trending on social media.
Yesterday the r/Blizzard subreddit closed down (it's live again now) and there were more protests during the Hearthstone Tespa Collegiate Champs (thanks, Kotaku).