Post a Pokemon card promo packet at Pokemon post offices popping up pan Europe
You can pick Pikachu or Pe- I mean, Eevee as a theme for your post card.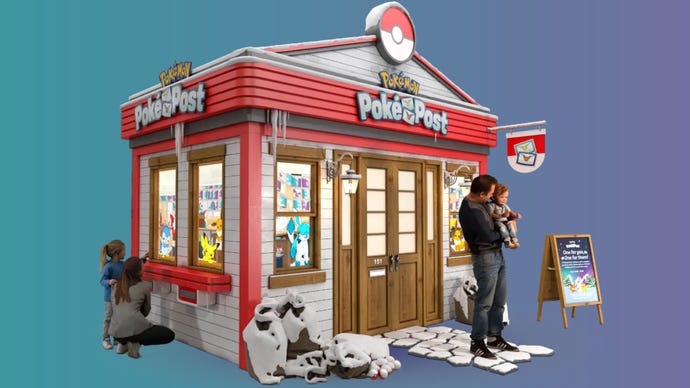 Later this month and throughout December, The Pokemon Company will be shacking up across the UK, France, and Germany with a post office pop up.
Last week, The Pokemon Company announced a cute, very temporary pop up it will be hosting in various cities over the next few weeks that's all about getting Pokemon cards into the hands of your friends and family. Kicking off November 18 in Edinburg, you'll be able to head to a Poke Post location where you'll be given a Pokemon TCG pack to keep for yourself, and one that "you can post on-site for a friend, all free of charge!" Those attending will be able to choose between a Pikachu- or Eevee-themed envelope (of course), which will include a promo card with the corresponding Pokemon, as well as a Scarlet & Violet fun pack.
Once you've sent that off to whichever friend you choose, you then get a little gift pack yourself - just bear in mind you can only send a card to someone within the country you attend the pop up at. If you decide to send off the Pikachu set, you'll get the Eevee set, and vice versa. While I expect the event to be busy, the Poke Post Mailing Office is open from 10am to 7pm, local time, so at least you have a big window of opportunity.
You can check out the full list of dates and places here:
Saturday 18 November: Castle Street, Edinburgh
Wednesday 22 November: The Hayes, Cardiff
Saturday 2 December: Main Square, Westfield La Part-Dieu, Lyon
Wednesday 6 December: Pasing Arcaden Mall, Munich
Saturday 9 December: Mercedes Platz, Berlin
Saturday 16 December: Ruhr Park, Bochum
Tuesday 19 December: Queen's Walk, London
On top of all of that, there will be photo opportunities, Pokemon Go bonuses, and meet and greet appearances from Pikachu and Eevee. You can see what times both Pikachu and Eevee will appear on the official Pokemon website.