Pokemon Cafe Mix Microtransactions: How to recruit Pikachu and get more Acorns
Pokemon Cafe Mix is free on mobile and Nintendo Switch, but there are a few premium purchases you can make to help your cafe run smoothly.
In Pokemon Cafe Mix, you'll need to link up happy little Pokemon faces to create various drinks and snacks for your customers. By completing orders, you'll unlock new cafe items and bonuses that will make your job a lot easier.
As you go, you'll earn Golden Acorns and Friendship Stars that will help you hire new Pokemon and expand your business. You'll also be able to use the Acorns to buy more moves if you run out before an order is complete or to buy more Hearts, which will allow you to retry an order if you run out of moves.
Hearts are earned in real-time and the length of time varies, so if you're not a patient person, you could always buy more stuff!
Pokemon Cafe Mix Microtransactions
There are several Pokemon Cafe Mix bundles you can purchase at the moment, but let's take a look at what you can do for free first.
As I said earlier, you can either wait for Hearts in real-time or pay 900 Acorns to buy one now. Extra moves also cost 900 Acorns, so neither choice is particularly cheap.
The majority of Pokemon are recruited by improving their Friendship Star Level by completing orders for them. The exception to this rule is Pikachu, who can be earned one of two ways:
By purchasing the Special Pikachu Pack for £3.99, where you'll also get a Skill Plus bonus, a verticle and horizontal Megaphone maker and 4900 Acorns
By logging in on any five days during the grand-opening celebration, i.e. within five days of starting your game
You're also able to buy various other Item Packs, which range from £1.99 to a whopping £49.99. Items you're likely to see in the item packs include:
Up to 70,000 Acorns
Skill Plus
Vertical Megaphone Maker
Horizontal Megaphone Maker
Helpful Paw
Verticle Whistle
Horizontal Whistle
You can also buy various Acorn packs for anywhere between £0.99 and £19.99 if all you want is a little stash of currency. Another easy way to get more Acorns is to complete Daily Stamp Board Challenges. If you complete all three challenges on a card, you'll earn around 1000 - 1500 Acorns for your troubles.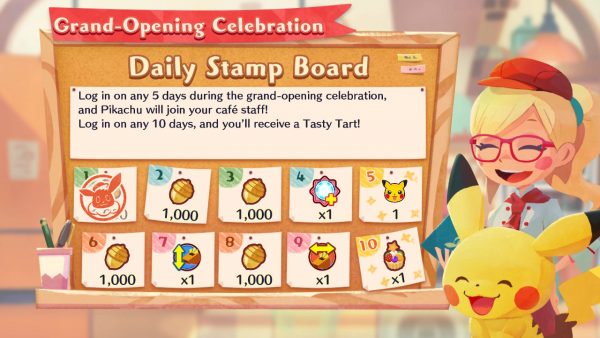 If you're playing Pokemon Sword and Shield, you can check out our guides on how to start the Isle of Armor expansion and where to get Max Mushrooms to make Max Soup.