Is Overwatch teasing Torbjörn's daughter as hero 27?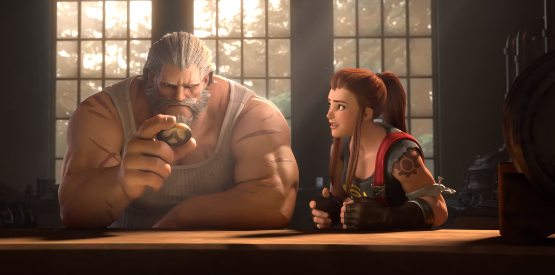 When it comes to cryptic teasers, no one loves a subtle nudge and a wink more than the Overwatch team.
The latest hints come from a story update posted to the official Overwatch blog over the weekend, which shows a letter from Torbjörn to his wife Ingrid in the aftermath of Operation White Dome, where he was gravely injured before being saved by Reinhardt.
In return, Torbjörn says that he promised to let Reinhardt name his unborn daughter - who is most likely Bridgette Lindholm, who we met in Reinhardt's Honor and Glory animated short.
PC Gamer note that supporting characters from Overwatch media have gone on to become full fledged characters in their own right - Moira, for instance, appeared in Doomfist's comic.
Using that logic, the fact that Bridgette has popped up in extended universe media not once, but twice, is a pretty strong indication that she'll join the hero roster at some point - even if she's not hero 27.
The teasing started last week on Twitter with a declassified report of the events of Operation White Dome which we've embedded again below if you missed it.
The letter was then posted on Saturday in Swedish, with an English translation, confirming that Reinhardt had saved Torbjörn's life, before going on to talk about the unborn daughter.
"[Reinhardt] has been bothering me insufferably at my bedside. Half in jest, I suggested that if it would shut him up, I would allow him to name our daughter, as he has been badgering me about it these past months. He, of course, took me at my word."
If you follow the link, you can read the full letter on the Overwatch official site.
Current heroes are also receiving attention from the development team, who this month launched significant changes to Doomfist, Mei and Sombra on the PTR. Sombra was reworked the most, with buffs to her EMP and hacking abilities as well as her hip-fire spread.