Overwatch forums glitch out, reveal a message from the mysterious Sombra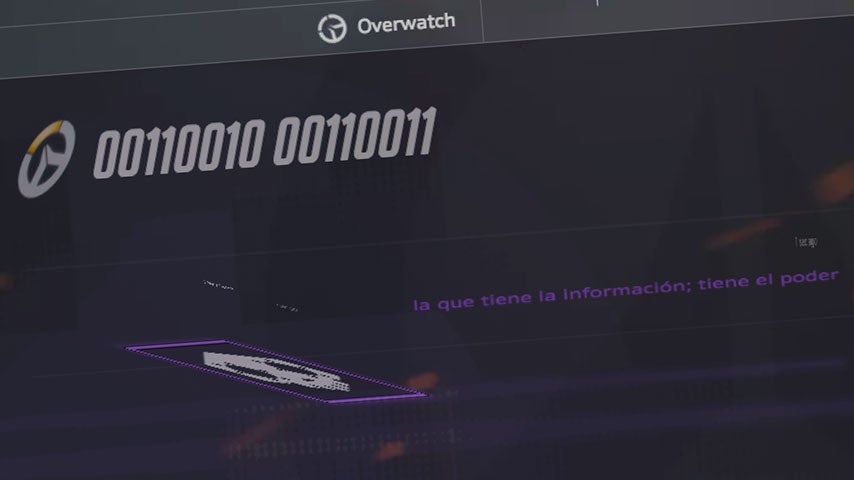 Overwatch's enigmatic upcoming roster addition is back in touch.
Overwatch fans have been expecting Blizzard to announce a new character called Sombra for months now, thanks to a series of teases tied up with an ongoing AR game - you might want to catch up on everything we know about Overwatch's Sombra although the linked round up came out before Ana Amari was revealed as Overwatch's 22nd character.
Building on from a Sombra tease earlier this month, the latest development suggests things are heating up. There's a post on the Overwatch forums which reads "la que tiene la información; tiene el poder" - a Spanish phrase which translates to "she who has the information, has the power", and which has appeared in previous Sombra tease material.
So what? Well, if you actually visit that link you'll see the post almost immediately "glitches", eventually resolving into a block of code. PCGamesN has a great run down of what happened next: the text was decoded into an ASCII skull which looks a lot like one which popped up in an earlier Sombra tease. Overwatch fans on Reddit worked out that the differences between the two skulls formed a new code, which was unlocked when someone thought to use a caeser-23 cipher - Overwatch has 23 characters including Sombra, see.
This effort unlocked a new Spanish phrase in which Sombra appears to address ARG player group The Game Detectives directly, and the group responded immediately by somehow working out the URL to a video hidden on Blizzard's asset mirror. The video references Janina Kowalska, which is believed to be a pseudonym of Ana's - but the video's file description rendered up another message from Sombra in Spanish, and the heartbeat in the video is morse code.
Using these clues, The Game Detectives discovered a new website named for a fake TV show in the Overwatch universe. The Spanish text on this site refers to automatic email replies, and if you send a message to tips@amomentintime.com - an address Blizzard shared with the original trailer including the A Moment In Time reference - you'll get a bunch of code back.
The trail goes cold here, as The Game Detectives have not yet resolved the mystery. What I want to know is: will Sombra be the next playable Overwatch character, or will she continue to work behind the scenes, releasing information on current and upcoming heroes?
Overwatch's plot may seem like pretty shallow PvP fare, but Blizzard has gone to great lengths to hint at an elaborate and detailed backstory to its science fiction universe, some of which is built right into the maps. As such, it's been interesting to see the developer incorporate elements of fan interpretation in the game, as with D'Va's Dorito munching emote.
If you're taking requests, Blizzard: make Mercy x Pharah and Soldier-76-is-everyone's-dad canon. Thanks in advance.