Namco's Prepare to Dine revealed as Code Vein, players will dine on monsters as vampires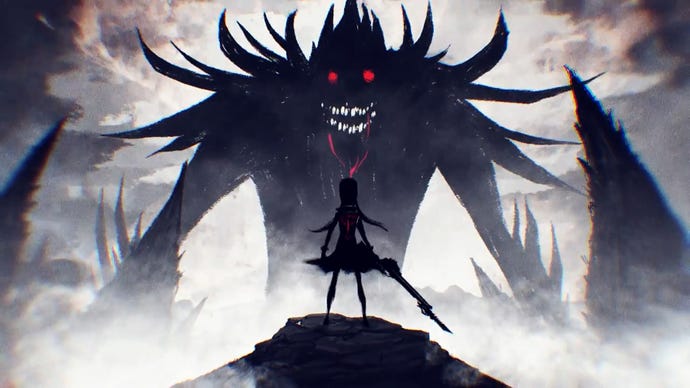 The Prepare to Dine tease from Bandai Namco has been revealed in the latest issue of Weekly Famitsu.
Developed by the team behind God Eater, the game is titled Code Vein and described as an "exploration action-RPG," according to Hachima Kikou, as translated by Gematsu.
Namco started teasing Code Vein last week with a rather interesting teaser video featuring dark themes.
Set in a future where the world in ruins, players take on the role of vampires with supernatural abilities called Revenants. These beings have "transcended humanity," but as a result, have lost their human memories. They live in a society called Vein.
The game makes use of a "buddy system" which allows the player to bring a partner along with them. Whether this partner is AI or another player wasn't clear. The Revenants will work together exploring seamlessly connected areas and dungeons.
Revenants use close-range weapons like swords, as seen in the teaser video from last week, but other weapons such as hammers and spears will also be available.
Should a Revenant become short on blood, they turn into this monster called a Lost, which is what players will be hunting from the sound of it. A piece of equipment which functions as armor, called a Blood Veil, is used by Revenants to drain the blood of the Lost. When used, a meter of sorts will appear while the blood is being extracted.
A special ability called Tempered Blood can then be used after a successful attack using Blood Vale. There are variations of this attack, as it depends upon the blood sucked out of the Lost. The blood can direct attacks, strengthen the player or weaken enemies.
It sounds rather interesting, and we'll know more about Code Vein in two days' time when Namco makes the official announcement. A video is expected, and possibly screens, but a gameplay trailer won't be released until May.
In development using Unreal Engine 4, Code Vein is targeted for a 2018 worldwide release, with platforms to be announced.