Little Friends: Dogs and Cats review - the pet dress-up game of your dreams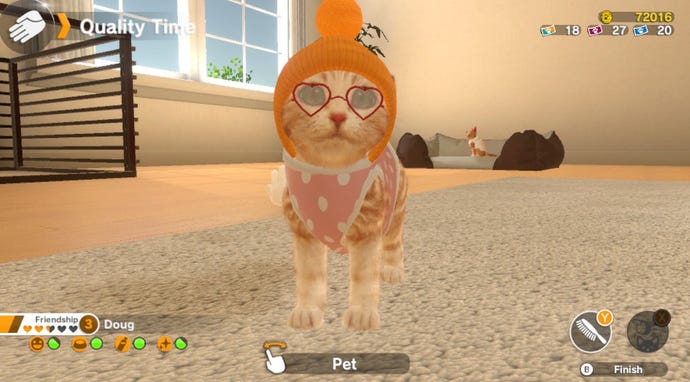 As a cat enthusiast, it is my dream to one day dress up my two red boys and take amusing photos that I can share with the world. Unfortunately, this would likely coincide with my death, as my cats are about as tolerant to human touch as they are to a body of water.
Since it seems no official Nintendogs sequel is forthcoming, Little Friends: Dogs and Cats is the next best thing: a spiritual successor that finds a perfect home on the Switch. Not only can you take your new digital friends with you wherever you go, but you can also play minigames, go for walks and uncover treasure and, most importantly, dress them up.
You must start with a dog, so I chose a sweet little French Bulldog and named her Poppy. I taught her how to catch frisbees and subsequently won all the tournaments, with Poppy leaping into the air to catch them in sweet victory.
Once you've reached Friendship Level 15, you can adopt more pets, including kittens. You can adopt 12 pets in total, which meant that Poppy was surrounded by 11 kittens at any given time. Each pet has its own favourite type of food and feeding them their favourite will boost your friendship rating, as will playing with them, brushing them and petting them.
Unlike many other Switch games, there are achievements in Little Friends that you unlock by completing various tasks, such as walking 1km or petting a friend 10 times. You'll also unlock new toys, food and accessories for your pet that makes playtime more fun and keeps things interesting.
The dressing up section is by far my favourite element, as there's such a wide favourite of styles and colours to choose from. There are sunglasses, little jackets, hats, and even special accessories they can wear on their back. As I played Little Friends while I was on holiday, Steve the Cat was sporting a rubber ring to show that he too was on holiday mode.
You can earn Friend Points, the in-game currency, by going walks with your puppy and uncovering treasure, reaching pet milestones and unlocking achievements and, of course, winning frisbee tournaments. Friend Points can be spent on the items I mentioned earlier as well as new decorations for your pet's home, making it a more personal experience.
Little Friends is a relaxing, funny little game that adults and kids alike will enjoy, and there's not a battle royale mode in sight.
Little Friends: Dogs and Cats releases today for Nintendo Switch.