Kingdom Hearts 3's new DLC boss and ending is some mad, meta shit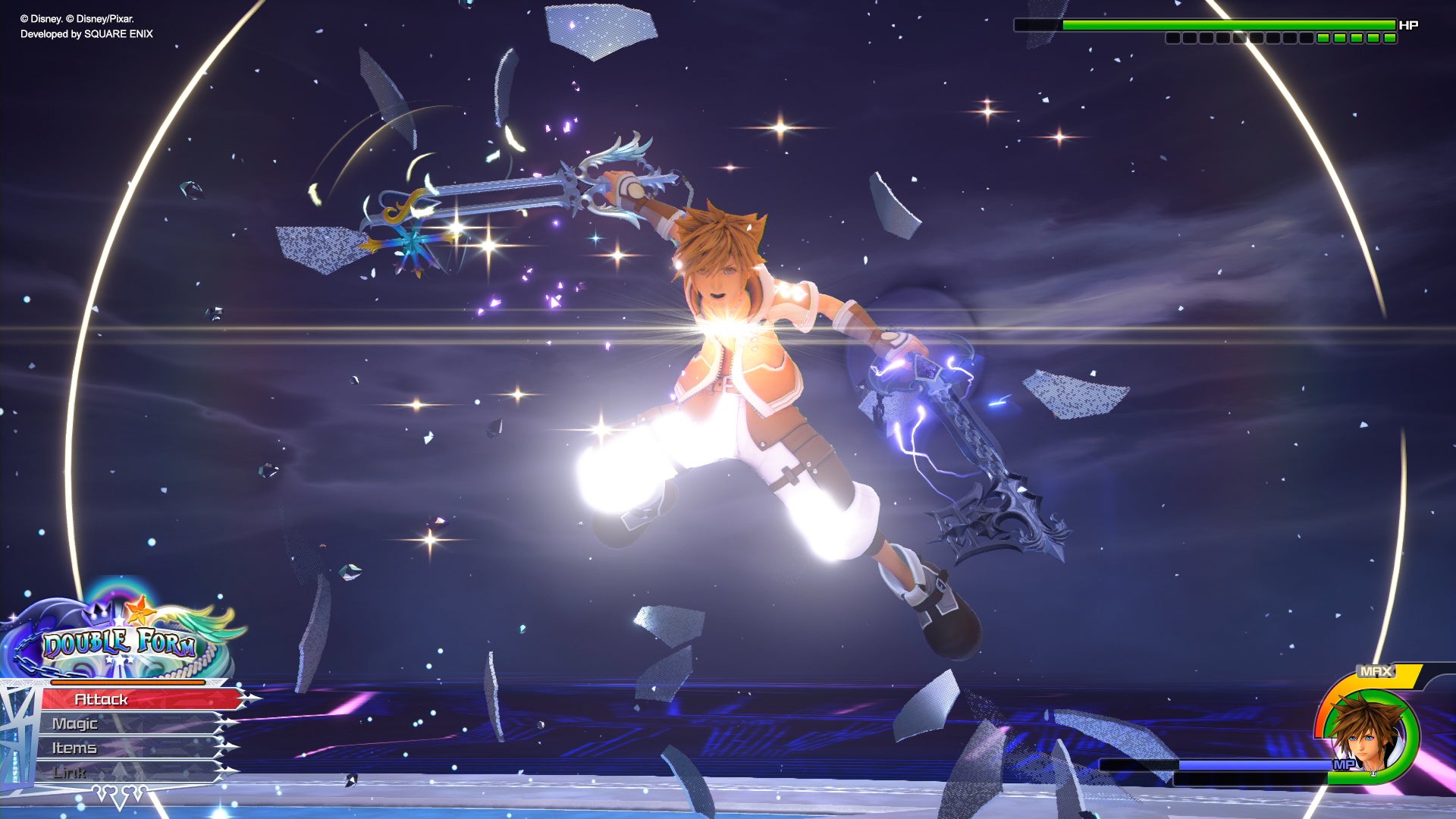 Kingdom Hearts 3's Re:Mind DLC expansion has a new ending that is absolutely crazy, and you don't even need to be a Kingdom Hearts fan to understand why.
The main ending to Kingdom Hearts 3 as released last year does a pretty good job of putting a neat little bow on the winding, convoluted narrative the series had told prior in its two numbered entries and eight hundred spin-offs. It also posed some pretty interesting questions about the future of the Kingdom Hearts franchise. The all-new DLC expansion picks up some of these dangling threads - and it's honestly some lore-warping, brain-melting stuff.
The rest of this article contains full spoilers for Kingdom Hearts 3 and the Kingdom Hearts 3 Re:Mind DLC. You've been warned. If you scroll past this image of Sora dual-wielding some of the keyblades added in the DLC, well, that's on you.
Back in February of last year, I wrote about how Kingdom Hearts 3's secret ending "teases possibilities ranging from the mundane to the insane". I wasn't quite sure if the Re:Mind DLC would pick up on this thread or if it'd be saved for a future game, to be honest - and the truth is that it sort of does both, bringing back the key character from that mystery and confirming fan theories about his identity.
The thing is, when I talk about the identity of a character, none of this really has to do with Kingdom Hearts. If I'm honest, I like Kingdom Hearts well enough but have felt in recent years the series has lost its way; where the earlier games told an original story almost as a means to an end in order to visit a variety of exciting and nostalgic Disney worlds, KH3 was almost entirely focused on its own winding narrative. The Disney aspects almost felt in the way, in fact, something best shown in the story's pacing; actual forward narrative momentum would grind to a halt to facilitate a few hours of Disney movie magic before a pivot back to word soup Japanese RPG exposition dumps.
Anyway, here's the rub: new character 'Yozora' in Kingdom Hearts is essentially Noctis - the lead character from Final Fantasy 15. Except he isn't. Except he is. Hold tight, as this is where it gets meta, and complicated.
Final Fantasy 15 began life as Final Fantasy Versus 13, an ill-fated project announced in 2006 created and produced by Kingdom Hearts boss Tetsuya Nomura. For various reasons Versus would fail to come together in any real way, and eventually the project was rebranded and rebooted as Final Fantasy 15. FF15 ultimately ended up being directed by somebody different, Hajime Tabata. Tabata was given the unpleasant task of creating a game that lived up to what had been shown off of Versus over the years under a strict timeline and budget. He delivered that, but Nomura, who left the project soon after its reboot, has never made a secret about his displeasure at what the final product made of his initial vision.
Fast forward a couple of years and Kingdom Hearts appears to cheekily reference that cancelled form of Versus. In the Toy Story world a video game store is selling 'Verum Rex', a fictional Square Enix game that deliberately resembles footage of the cancelled version of Versus/FF15. There's even a CG trailer for Verum Rex as part of the nod.
This all seemed like a cute reference to a dead project, but then KH3's secret ending took it a step further. Sora and Riku find themselves in what appears to be a recreation of Shibuya and the Tokyo Metropolitan area - locations that were a heavy inspiration on Insomnia, a key location in Versus 13 trailers. Riku stands in the shadow of the Tokyo Metropolitan Government Building - which in FF15 and Versus is the Citadel building of Insomnia. As he does, the music - which is composed by Yoko Shimomura, the same woman behind the score of Versus 13 and 15 - hints at 'Somnus', the piano theme used in various Versus trailers. It's some wild stuff to watch if you're a Final Fantasy fan with any knowledge of the last difficult ten to fifteen years of FF development.
Anyway, the Re:Mind DLC brings Yozora back as the final, super-hard boss. This fight takes place atop an iconic real-world building with the Tokyo skyline spread out behind you. Depending on if you win or lose, there's two possible endings, but the final scenes are always the same.
Yozora wakes up in the back of a car in a new CG scene. The driver calls out to him to wake up and he slowly stirs. Beady-eyed fans will immediately realize: this is a shot-for-shot CG recreation of a scene from a 2011 Versus 13 trailer - one of many concepts and scenes that didn't make it over to FF15. But the dialogue differs: Yozora utters something to himself - the very first lines Sora speaks in the first Kingdom Hearts, wondering if he's in the real world or not.
Like, what is even going on? It's mad shit. On a story level there are questions for KH fans, obviously. Sora and Yozora are connected, for instance, but how? In the world of Kingdom Hearts, Yozora is established as a video game character, but now he appears to have come to life - so do video game worlds exist in KH just as Disney ones do? But more than that for people like me not nearly as invested in the story of Kingdom Hearts there's the meta, real-world implications of Tetsuya Nomura, disappointed with FF15, attempting to recreate his initial vision for that world within the safe space of Kingdom Hearts.
Honestly, nobody has any real idea of what it all might mean or where it all might lead. But it's exciting to think about.