It's Unlikely Animal Crossing: New Horizons' Flick and C.J. Are Strictly Business Partners
Flick and C.J. are roommates ("Oh my God, they were roommates"), but they're also more depending on which canon you subscribe to.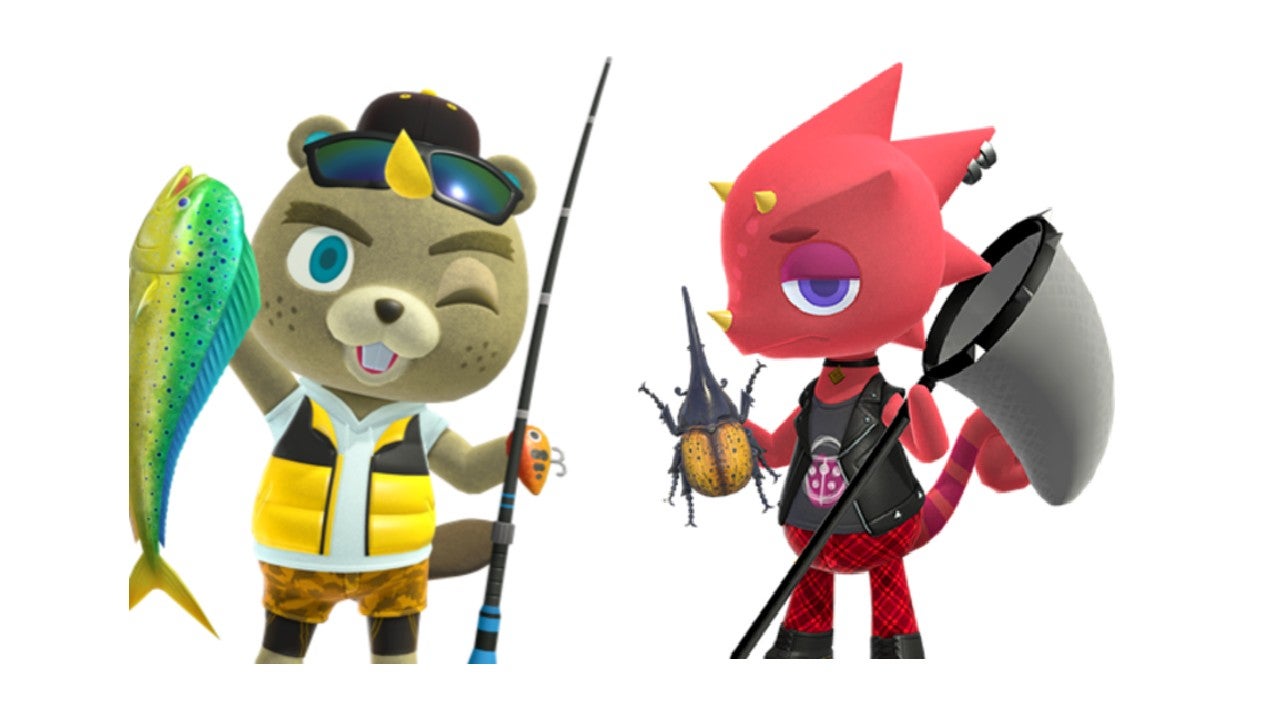 This article first appeared on USgamer, a partner publication of VG247. Some content, such as this article, has been migrated to VG247 for posterity after USgamer's closure - but it has not been edited or further vetted by the VG247 team.
Playing Animal Crossing: New Horizons brings new questions to the fore every day, like, "Where should I plant this peach tree?" and "Why do my 'singing' villagers sound like they're screaming Satan's praises?" Another important query is making the rounds amongst New Horizons players: "Are Flick and C.J., you know, a thing?"
If you're not familiar with these two potential lovebirds, C.J. is a beaver who's big into livestreaming his fishing hobby, which he refers to as "seasports." Flick is a chameleon with a cool punk get-up who's huge into bugs. He buys any bugs you catch with a significant mark-up. A not-small number of New Horizons players have a room in their house that's stuffed to bursting with tarantulas, and it's all because they're waiting for Flick to visit so they can sell, sell, sell. Broke: Playing the stalk market for turnips. Woke: Raking in the cash through the poisonous arachnid trade.
There's been some buzz about the relationship between C.J. and Flick. The two are "roommates" and work together, that much is certain. When you talk to them in-game, they refer you to their partner's respective services. For example, you can commission Flick to make figurines of the bugs and fish you collect, and C.J. assures you his friend is "soooo talented" and a "total artist." ResetEra has a collection of screenshots with examples of C.J. and Flick getting a little gooey-eyed over each other.
The way Flick and C.J. speak warmly of each other and refer to one another as "partner" has some New Horizons players believing the two might be lovers. However, some recent revelations have put a damper on the celebration of gay love between the influencer beaver and the punk chameleon. DualShockers received an email that contained a photo of Flick from the Animal Crossing: New Horizons—Official Companion Guide. The photo, a "Did You Know?" blurb about Flick, says the reptile is C.J.'s "business partner."
Does this mean C.J. and Flick feel nothing for each other beyond a mutual respect built on getting super-enthused about bugs and fish? Well, it depends where you live. Even with the "business partner" clarification in the guide—which is currently out in Europe, and will be coming to North America on April 30—the language Flick and C.J. use when talking about one another suggests they've been a pair for a long time.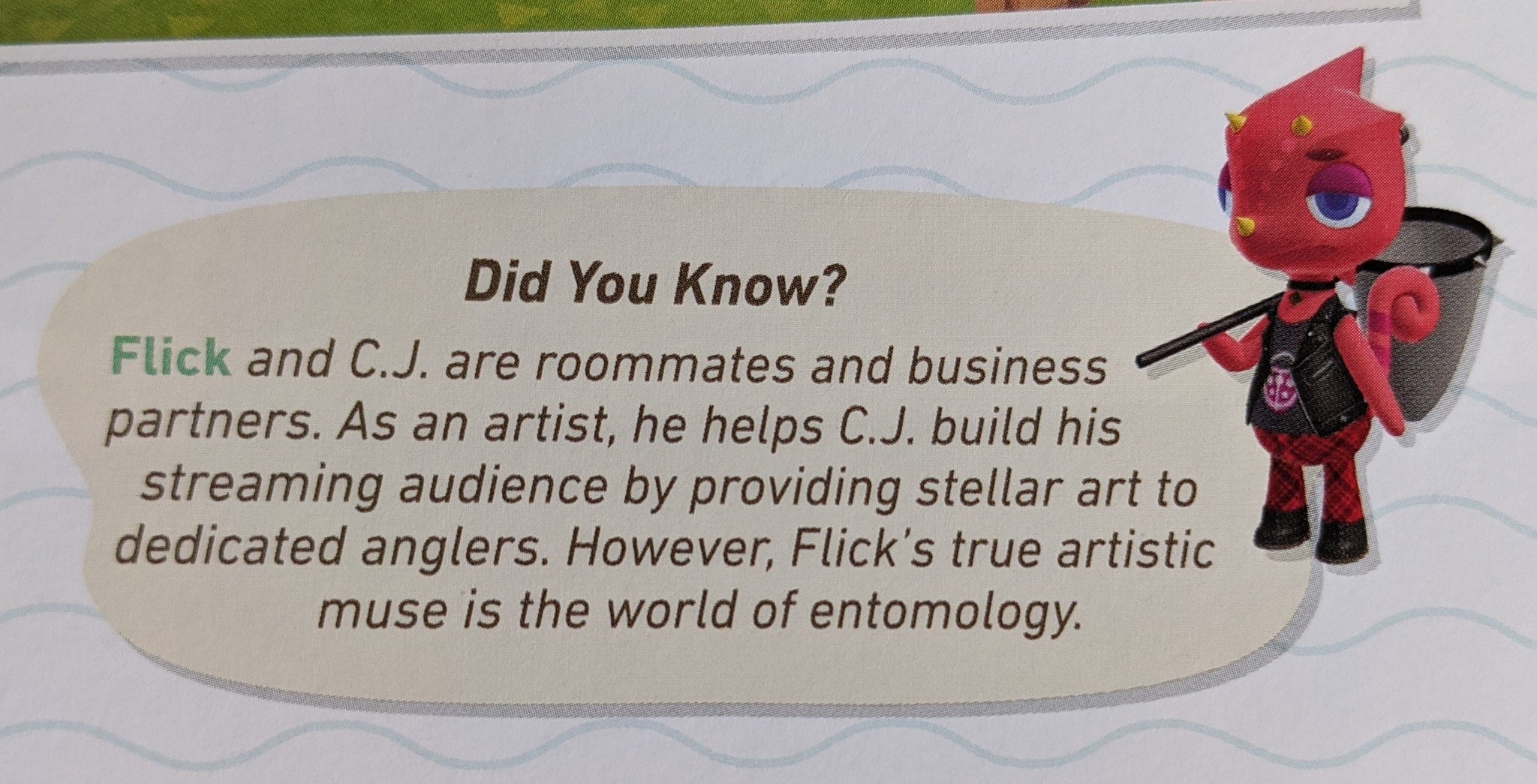 A gay couple isn't out of the realm of possibility in New Horizons: The protagonist you play as is gender neutral unless you decide otherwise. Villagers will tell you a story about two princesses in love. That said, New Horizons' original Japanese text is a little more conservative. You still choose between a boy and a girl, whereas the localization asks you to pick which facial style you identify with, and assures you you can change your look at any time. C.J. also refers to Flick as his "friend," not his partner.
What we've got here is a good ol' fashioned stand-off between canon, "fanon," and localization. Can Flick and C.J. be considered gay if there's no hint of a relationship in the original Japanese text? My answer is "Sure, why not." The vibe I get from their conversations is that they care for one another on an emotional level.
I know a detractor can easily counter with "Nuh-uh!" and point to the Japanese text that says they're just pals. Why do that, though? I understand there's some frustration with fandom turning platonic friendships between dudes into torrid gay love affairs, but the localized iterations of C.J. and Flick are clearly sweet on each other. I feel no compulsion to break them up. Let the nice animals be gay.
Love is complicated. Living your best life doesn't have to be. Visit our Animal Crossing: New Horizons guide for everything you need to know about building a sweet home on Nook's island.