"I had to solve by looking outside of the racing genre" how Bloodborne Kart pulls from Halo to get it right
You've got to pull from far and wide to live up to expectations
How many other releases do you think inspired your favourite video game of all time? One, two, ten? Believe it or not, creative works are usually a swarm of different experiences and references pulled from all over the place. This is true for everything ranging from articles written on video game websites to Bloodborne Kart, an upcoming Bloodborne-fan game that pulls from Mario Kart to Halo in order to meet expectations.
All this was revealed to me in an interview with Lilith, one of the three developers working hard to release Bloodborne Kart as a free game next January. Originally a meme project, it would spiral into a full on passion project for the team. This shift required turning a joke into an actual, playable game. When kart racers are involved, there is only really one place you could start.
"It is pulling from the full genre, but indeed the biggest inspiration was Mario Kart 64," states Lilith. "That was the one I played growing up. When it came to making the foundational decisions, all the decisions were Mario Kart related." This involved core aspects of the gameplay, including picking up power-ups, power-ups spinning in the corner when nabbed, and more. Lilith also listed various other games to which Bloodborne Kart owes a slice of its gameplay experience to, including Crash Team Racing and Twisted Metal.
But of course, this particular game goes further than the racing itself. Being Bloodborne Kart, there is of course an expectation that the game feels like... Bloodborne. It has the look sure, but what about the feel? According to Lilith, a lot of time and thought went into transitioning the core tenets of Bloodborne into a whole new genre. The key to this task? Smash Bros.
"I pulled from Smash Bros. That game is really good at taking characters that aren't in a fighting game and pulling them into the genre. Their gameplay is re-interpreted as a fighting game character [...] Father Gasgoine turns into his beast variant when his health drops beneath 33%, just like in the game. Changes his weight class, so it feels like actual Bloodborne Kart."
Lilith also points to non-character additions. Blood echoes, for example, play a major part in the game. You get them from running over roadkill, with additional blood echoes granting additional top speed like coins from Mario Kart. The point of adding all this is so that the game doesn't just feel like Garfield Kart with a Bloodborne skin, but a real Bloodborne game given life in a whole new genre.
Bloodborne Kart:
🗓 RELEASING 1/31/2024! 🗓

➡ 12 racers!
➡ 16 maps!
➡ Full single player campaign mode!
➡ Boss fights!
➡ Local split screen multiplayer!
➡ VS Battle mode!

🩸🏎LETS RACE THESE FOUL STREETS 🏎🩸

Happy Halloween 🎃 pic.twitter.com/wdumqS0lHX

— 🪄💫 PSX Bunlith🐰🏳️‍⚧️ BLM ACAB 🇵🇸 (@b0tster) October 31, 2023
But by far the most interesting game that finds a home inside Bloodborne Karts identity is Halo, thanks to the Battle Mode. This bonus mode, in which eight drivers can duke it out in vehicular combat owes a lot of its polish to the legendary sci-fi FPS series. Lilith elaborates: "That mode had a lot of difficult design decisions that I had to solve by looking outside of the racing genre. Halo was pretty good for that, as it did a lot of things right as a versus battle game."
Lilith found themselves going after the red team by default, even when they found themselves on that team. Looking at Halo, where you can see your character's arms to quickly identify which team you're on, a solution was found. "In Bloodborne Kart it used to be a symbol in the corner that showed you what team you were on, which wasn't enough. So now I changed the Kart colour to your team colour so it's always clear which team you're fighting."
"At the start of a Halo game, there will be an overview of the map and a description of the game mode. Halo was very good at onboarding brand new players, so that you could pass the controller to someone who never played the game before and they could get in quickly. Because of that, I just lifted small things like that directly (laughs)."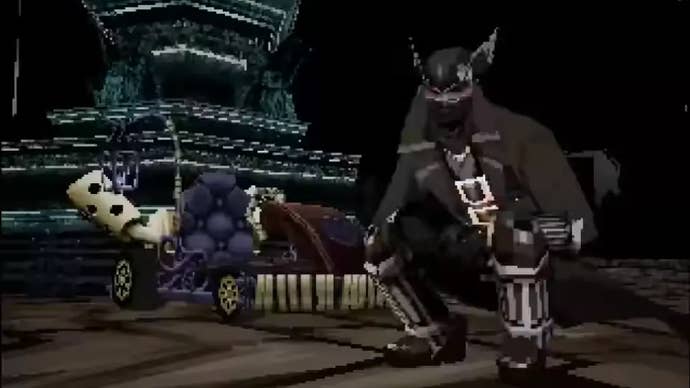 For good measure, you've also got the kill-streak medals, with a very-Halo themed announcer to boot. "That stuff was really fun. The Halo medals and announcers really add a lot!"
The result of all of that, should hopefully be a game that pays homage to Bloodborne in a way that fans will enjoy. Them, and curious onlookers who fancy giving the game a go. It goes to show the wide net creators have to cast over the entire video game medium to make something that excites people. Next time you pick up a game, indie open source Bloodborne Kart game or otherwise - give a mind to where all the little bits and pieces that make up that game come from.