The Humble Train Simulator Bundle will kickstart your Train Simulator 2020 collection
Fond of trains? Enjoy grabbing the latest edition of Train Simulator year after year? The Humble Train Simulator Bundle will get you Train Simulator 2020 and a bunch of DLC packs for cheap! Some of your purchase even goes to the International Rescue Committee, a humanitarian charity.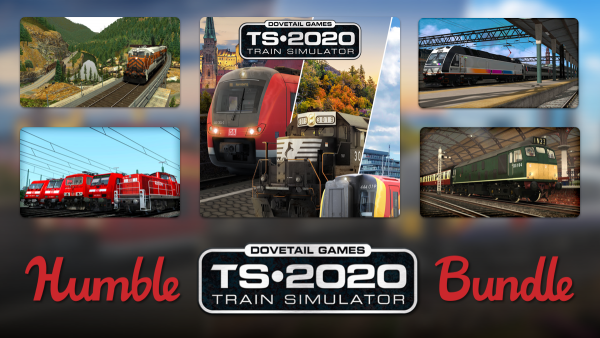 Okay, ready to get your train on? You'll definitely want to get in on this Humble Train Simulator Bundle. You can choose to pay $1, beat the average, or pay $12 for everything. This is a pretty meaty bundle, and buying everything separately would cost you around $449. So if you're on the fence about grabbing this bundle, it's definitely worth grabbing, even for a gift for someone else later!
At the $1 tier, you get Train Simulator 2020 itself, and four pieces of DLC: the Exeter - Kingswear Route, Western Hydraulics Pack, the Miami - West Palm Beach Route, and the CSX AC6000CW Loco. For locomotive history fans, the Exeter - Kingswear Route will be especially exciting, as it was a major route in the 1800's.
Beating the average gets you six additional pieces of DLC. In this tier, there are three new routes to grab, including the West Rhine: Kln - Koblenz Route, and three new locomotives, including the MRCE BR 185.5 Loco. If you pay $12, you'll get another six pieces of DLC, with three more routes and three more locomotives.
So to sum it up, $12 gets you Train Simulator 2020, eight new routes, seven new trains, and the Western Hydraulics pack. That's a pretty good deal, so if you're interested, make sure to grab the Humble Train Simulator Bundle before the end of the month.
If trains aren't quite your thing, though, there are a few other Humble Bundles that may be up your alley. The Humble Comics Bundle: Star Trek 2020 gives you a whole slew of Star Trek comics to read through if you're interested in the series' extended universe. If you enjoy table-top RPGs, the Humble RPG Bundle: Lord of the Rings 5e Bundle will get you the core Adventures of Middle-Earth books, and the higher tiers give you campaigns to play and additional Loremasters and Region guides.
There are plenty more bundles and deals at Humble Bundle, so make sure to check the site out for everything currently available.