Halo 5's Ghosts of Meridian Warzone map teased, playlist consolidations on the way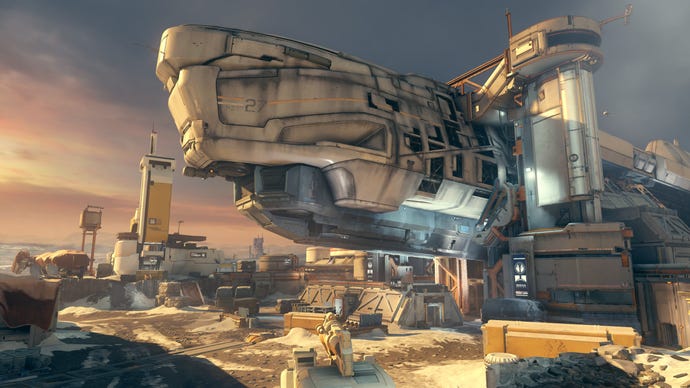 The next Halo 5 content drop, Ghosts of Meridian, is coming in early April and 343 Industries has provided a quick look at the new Warzone map along with bit of information on community created maps being added to matchmaking.
Ghosts of Meridan will include new weapons, weapon skins, helmets, armor, assassinations, emblems, vehicles, and the new Warzone map Skirmish at Darkstar.
The map find players battling each other in an area scattered with elements of colonial reclamation. It contains a variety of "unique sightlines, flank routes, and cover pieces.
Concept art of the map is posted below along with a look at the Hannibal Mantis which will also drop with Ghosts of Meridian.
343 also said in the latest Halo 5 blog post that the Community Team has been working with Forgers on "collecting, playtesting, and refining" community maps.
Since some of the maps need tweaking before being released to general players, work is ongoing. However, Community BTB and Grifball maps have "officially been handed off to internal teams" for final playtesting from multiplayer designers and full map test passes.
"If maps need further changes, we'll work with the Forgers directly on them, and the maps that are good to go will be slotted into future matchmaking updates," reads the post. "We'll continue to keep you updated on this."
Finally, the team has been monitoring MCC playlist and population data and is preparing to make adjustments and playlist consolidations in order to help players find matches faster. Changes to the backend to improve the speed matches are formed are being applied along with some playlist parameter adjustments.
Changes are also being made to the seven playlists by "widening the search range," and since Team Hardcore is the least populated playlist, the development team will be "opening up the playlist rules" to allow players of "nearly all skill levels" to match with each other.
Playlist consolidations will be applied to a small number of playlists and "rotating existing experiences."
The first consolidation will see the removal of Rumble Pit, which 343 said was the least popular playlist, and others will be moved to a rotating, regularly updated calendar.
More details are provided over on Halo Waypoint, so if you play the shooter, go give it a read for all pertinent information.