Far Cry 5 Arcade lets you mod Assassin's Creed: Black Flag, Watch Dogs 2, Far Cry: Primal into your game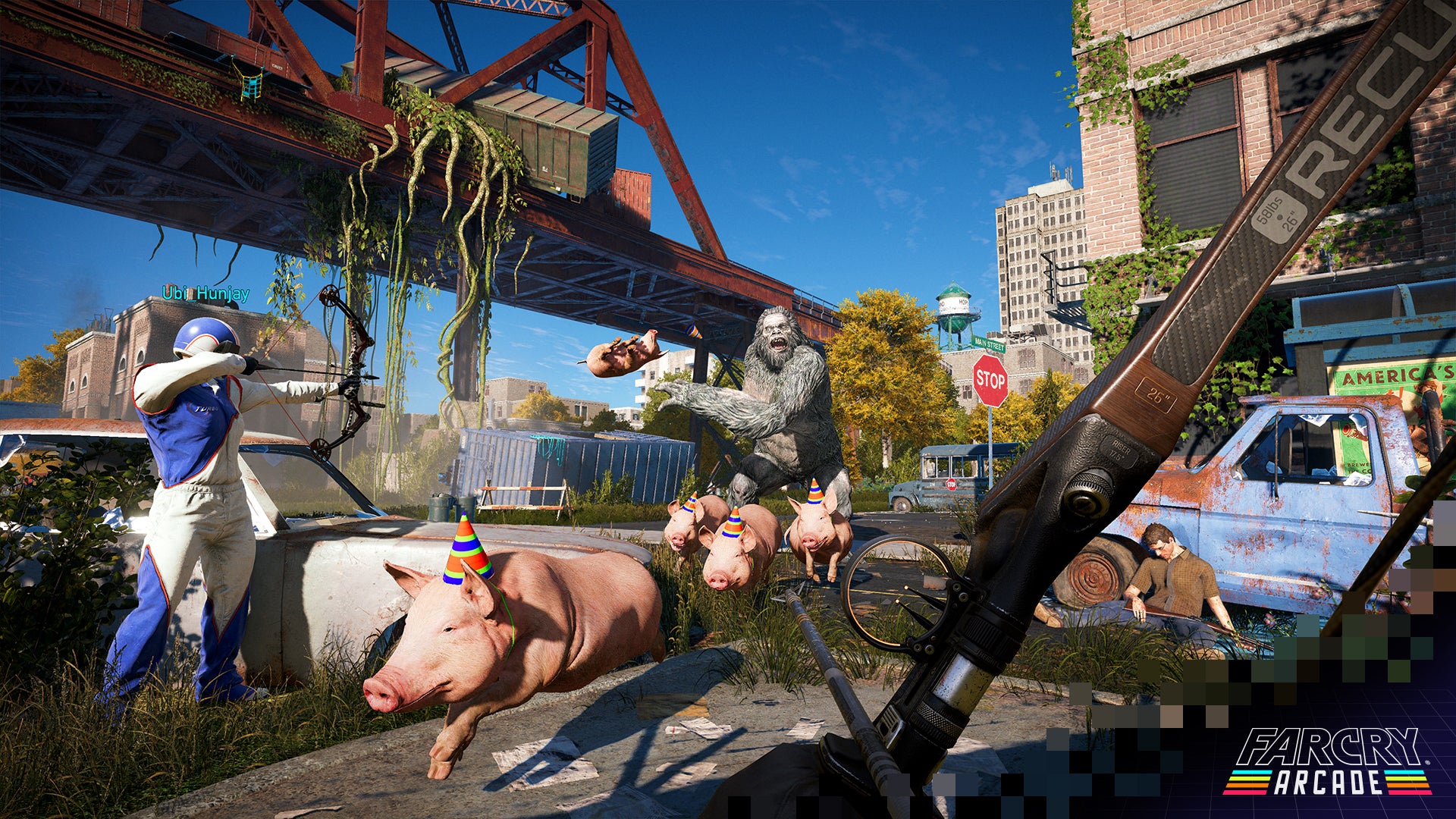 Far Cry 5 Arcade lets you use assets from other Ubisoft games like Assassin's Creed Black Flag, Watch Dogs 2 and Far Cry: Primal to make your own challenges, missions and races.

This expansion on the map editor in previous Far Cry games takes advantage of Ubisoft's shared tech to open up new possibilities.
"The more we progress, the more we try to streamline our engines, our data, to try and exchange some animations, some characters, some places, some models, we stumbled on the opportunity to actually take some of the assets of the Assassin's Creed franchise and Watch Dogs and bring in the Arcade, and that was just super cool," Jean-Sebastien Decant, Far Cry 5 narrative director, told VG247 at a recent preview event.
"It's like oh, shit, I can play now Far Cry in a city, or within a pirate environment, or even the primitive stuff from Far Cry Primal. That's super cool, and I can mix-and-match. The possibilities were super seducing."
Far Cry 4's map editor gave players a surprisingly deep level of control over their creations, with the ability to customise objective markers, damage and health modifiers, AI animations, as well as jump height and gravity.
Combining this customisability with a bigger tool box of toys to play with is sure to lead to some fun inventions - since you can share your created levels online with friends and other players.
"Within Ubisoft we're producing so many big worlds, in so many different franchise now. You have to imagine that we are almost like little villages," Decant added. "We're villages, but we're part of the same country."
Far Cry 5 Arcade: floating pigs and fire demons
We got to play a bit of Far Cry 5 Arcade at that same preview event in Paris, both in single-player and multiplayer.
One of the missions on show was a run-of-the-mill, but engaging, speedrun assault and extraction map, where you're dropped into a shipment yard filled with enemies and have to fight your way to a designated target, take them down, then survive long enough to make it back out.
The time-attack objective encouraged you to make the most of Far Cry 5's snappy and recoil heavy shooting, while showing off the kind of frantic rat runs you can make with the plethora of ziplines, buildings and terraforming tools on offer.
This is just one of the kinds of missions that you can make though. In Far Cry 4 we saw community levels based around survival horror, WW2, and battles on alien planets.
If Far Cry 5 is staying "fucked up and weird", then a mode where fire demons can chase you around a floating pig farm in revolutionary France is about as good an addition as any.
As well as from the main menu, you can access the Arcade from cabinets dotted around the main open world. So rather than having to quit out and jump whole-hog into creation, you can treat it as more of a diversion and dip in and out as you fancy.
What Far Cry 5 needs more than anything else is surprises, something to refresh the formula that we've grown a little too familiar with over the years. So if a fully-featured map editor can break up some of the game's samier sections with a few laughs, changes of pace and bat-shit missions thrown in for good measure, then it could be a winner.
Far Cry 5 is out for PS4, Xbox One and PC on March 27. The Season Pass includes Far Cry 3 for PS4 and Xbox One. Interview conducted at a recent event where travel was paid for by Ubisoft.