Bethesda E3 2015: Fallout 4 out 2015, Dishonored 2 in 2016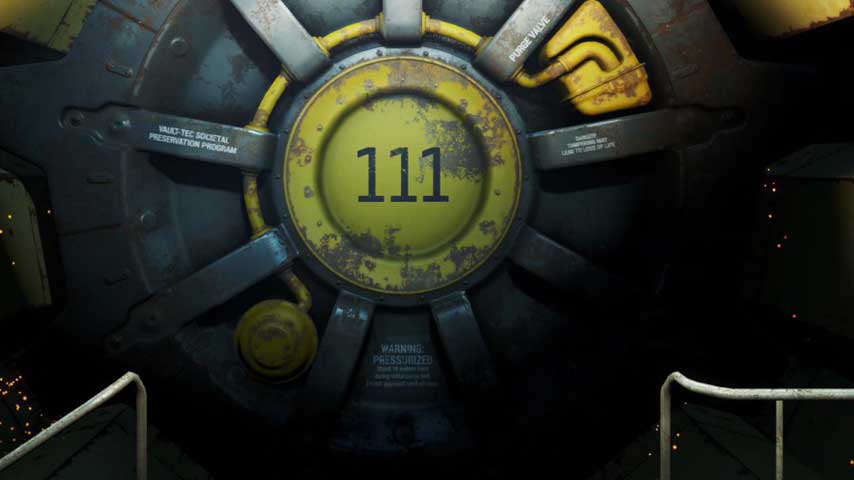 Fallout 4, DOOM 4, Dishonored 2 - Bethesda is ready for E3 2015. Is E3 2015 ready for Bethesda?
Bethesda held its very first E3 2015 presentation this year, and we were expecting the publisher to drop bombs to justify the expense of such an undertaking.
Although there were only a few true surprises, Bethesda lived up to our expectations with a terrific showing of DOOM and Fallout 4, as well as very exciting tease for Dishonored 2.
It dwelled at length on its big guns without forgetting its smaller endeavours, including an all new entry in The Elder Scrolls family.
During the conference pre-show, Bethesda's conference set up was detailed. This is something we heard a little bit about in excited tweets from early show attendees. The huge screen weighs 20,000 lbs and required 32 1 ton monitor chains to affix in place - plus 27 rolls of duct tape. The sound set up can produce 15,000 watts - I have concerns for Pat and Matt's eardrums.
Starting almost on time with a staff comment video followed by a game sizzle reel, Bethesda's Pete Hines kicked off the conference, called onto stage from the backstage pre-show by roars of applause from the expectant audience.
Hines said he's representing hundreds of Bethesda and partner staff all over the world, and greeted viewers who are likewise scattered around the globe.
"We have the best fans in the world. They're loyal, they're smart, and they share our passion for great games," Hines said.
Read on for all the details on DOOM, Battlecry, Dishonored 2, The Elder Scrolls: Legends, Fallout 4 and Fallout Shelter - there's a heck of a lot to digest here, but we've broken it down into easy-to-swallow sections.
If you'd prefer the executive summary, Matt says Fallout and Doom prove Bethesda is in the big league.
DOOM
DOOM was the first cab off the rank. Executive producer Marty Stratton took the stage. Citing the original DOOM games, which were simple but made gamers feel smart and powerful, Stratton said the foundation of any DOOM experience is combat.
There are three pillars to DOOM combat, the developer said: demons, "big effing guns" and moving really really fast.
Thus began our first DOOM E3 2015 gameplay footage session. The gameplay shown was that seen at Quakecon. The demo ended when the player encounter the creature seen in the Doom teaser Bethesda posted last month, which leapt onto them and ripped them apart.
Bethesda also gave us a glimpse at DOOM's multiplayer with a gameplay footage montage teaser, but didn't give any details, promising an update soon.
Stratton said iD Software has been inspired by the developer's history of releasing mod tools in producing SnapMap, a powerful but simple drag and drop editor allowing players to create new maps and even entirely new game modes. This will be bundled with DOOM on release.
The DOOM portion of the presentation ended with another look at single-player campaign. This content was not shown at QuakeCon, I think, and showed off Hell. A huge enemy that fired green laser blasts was shown; to finish it off, the player ripped out its heart and fed it to the creature. Some sort of grenade launcher was shown, too.
Bethesda later sent us some new DOOM screenshots and a DOOM E3 2015 trailer. DOOM is coming in northern spring 2016, for PC, PS4 and Xbox One.
Battlecry
Bethesda provided a look at Battlecry, which is currently in closed alpha. A more public test is coming in northern autumn. The new gameplay footage looks pretty good.
Hines also used this section to discuss Bethesda.net, which powers The Elder Scrolls Online, and forms the basis of Battelcry's online connectivity, too.
Dishonored 2
Arkane Studios heads Harvey Smith and Raphael Colantonio were next up to introduce Dishonored 2. A trailer, narrated by the Outsider, was shown. An assassin was seen running through a plague-ridden city. They had some sort of grappling hook, that looked magical.
When they opened the doors to a fancy room, it broke apart in a clockwork fashion to revealed something else. The assassin pulled out a crossbow and used magic to cross the room.
The assassin was revealed as a new character called Emily. Although her victim was ready for her, his traps and robot assistants didn't help him - she got there.
The game is set in a new city and players can choose to play as Corvo or Emily.
"Dishonored 2 is coming and will be available for PC, PS4 and Xbox One," Smith said. It will release in northern spring 2016.
As expected, Dishonored: Definitive Edition, a PS4 and Xbox One remaster, is coming in August.
The Elder Scrolls: Legends
While Bethesda didn't shock us with a The Elder Scrolls 6 announcement, it did show off The Elder Scrolls Online: Tamriel Unlimited, which recently launched on PS4 and Xbox One, and a new card game set in the world of The Elder Scrolls.
Seeming a little similar to games like Hearthstone and Magic: The Gathering, it's called The Elder Scrolls: Legends. It's coming to PC and iPad later this year, with more details in the next few months.
Fallout 4
Bethesda Game Studios Todd Howard came on stage to show off Fallout 4.
After chatting a bit about how far games have come, Howard showed up a dazzling array of concept art pieces showing just how much work, love and attention to detail the team puts into its open world RPGs.
Finally we got a look at the new game, kicking off in a pre-apocalypse world with the character creator. The player character looked at themselves in the bathroom mirror while their partner looked on over their shoulder. You can switch between male and female by choosing one of these two characters, and customise their face in real time. Howard said players can customise both characters, and a baby is generated based on the two.
The demo continued with a door-to-door salesman advertising vaults. The player was asked to verify information about themselves, which was how they set their character traits and stats. The character's household robot addressed the player by name; Howard said Bethesda has recorded thousands of the most popular character names for this purpose.
The air raid sirens began and the player ran to the vault. The demo then skipped forward, as Bethesda doesn't want to ruin the plot, but confirmed the players is the only survivor of vault 111, emerging over 200 years later.
Howard mentioned volumetric lighting in discussing the graphics outside the Vault. The player met their old household robot, who explains that it's been two centuries since the vault closed. Howard said that players can say whatever they want to the robot and even shoot it in the face.
Shortly thereafter the player met the dog, which can be ordered around with contextual commands, much like the companions in Skyrim.
In a second gameplay video, Howard showed off how players can rebuild a settlement in the wilderness - growing plants for food, sourcing water and placing generators. By running wires, players can bring electricity to the town. New residents will come to live in the settlement as it grows, as will traders with rare items.
Players can rebuild a settlement in the wilderness - growing plants for food, sourcing water and placing generators. By running wires, players can bring electricity to the town. New residents will come to live in the settlement as it grows, as will traders with rare items.
Players can build terminals to control electrical devices on switches, including defences like turrets to protect against inevitable raiders. It's possible to build multiple settlements and have Brahmin caravans run between them. The settlement gameplay is entirely optional.
Crafting in general has been overhauled. All the items you can pick up in a Bethesda game now have a purpose beyond trash loot; you cna take them apart for parts to sue in crafting. The crafting menu shows you where you can find the items you need for particular crafting results.
As for what you're crafting, there are over 700 permutations of weapons, so you can craft scopes, stocks, magazines and even entirely new weapons. You'll also be able to modify your power armour with this system, which is rad.
To close off the Fallout 4 section, Bethesda showed a montage of combat moments, with loads of great weapons and enemies. It ended with the words "it's good to be back", which was pretty sweet.
The game releases on November 10 2015.
Fallout Pip-Boy app
The new Pip-Boy looks pretty cool. As well as allowing players to navigate the new inventory system, which includes layered armour, it can play tapes players find in the environment, including some game tapes.
Howard also showed off Bethesda's real Pip-Boy - which comes with the Collector's Edition. You can load your smartphone into it, and use an app which sues the same code as the Pip-Boy in the game. You can use it as a second screen to access anything the Pip-Boy manages in game.
"As stupid gimmicks go," Howard said, "This is the best fucking one I've ever seen. It's really cool."
The base app will be available on Android and iOS so you can sue it as a second screen even without a Pip-Boy mount.
Fallout Shelter
Howard showed off something unexpected - an iPad game called Fallout Shelter where the player takes on the role of a Vault manager. They must manage resources as they build their own vault and keep its inhabitants happy, coping with disasters. Players can arrange for their Vault dwellers to have babies, and name them.
The game is free, has no paywall timers and does not require an Internet connection to play. You can optionally purchase more currency.
It's out on iOS tonight, rolling out worldwide as soon as the showcase ends.