Fallout 4 mods: Batman and Superman Power Armor, Godzilla and Terminator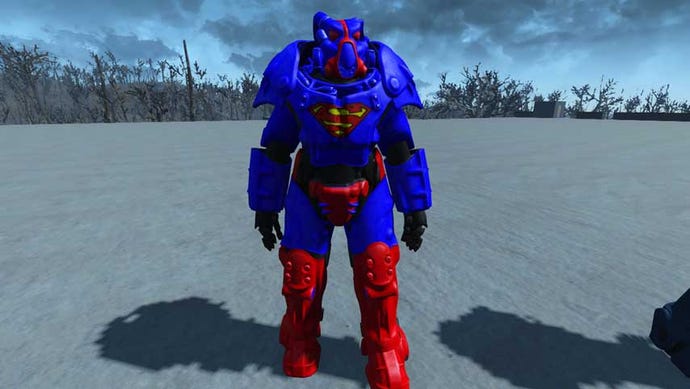 Fallout 4 is good, but could it be better with more pop culture mods? Survey say: yes.
Today's batch of Fallout 4 mods is brought to you by a sudden influx of superheroes and similar. I'm not sure why the last few days have inspired the release of so many comic and movie mods, but I like it.
We can blame JayButzer007 for most of these; the busy modder put together a series of DC superhero-themed paint jobs for power armor. Check out Superman X01 Paint, Man Of Steel X01 Paint, Promotional Arkham Knight Power Armor T60, Batman Combo Paint and Green Lantern X01 Power Armor Paint.
There are Red and Orange Lantern sets available too; just browse their profile for more.
This next one's a bit of a stretch; rather than a true Godzilla recreation, Gojira by Neeher is just a giant Deathclaw. Then again, there's not really a "just" when it comes to giant Deathclaws, is there?
The last one for today is another cinematic affair - Terminator Courser by AerysTMD. It's supposed to make Institute Coursers look like Arndol Schwarzenegger's character in the eponymous franchise. Could use a bit of tweaking, I reckon, but it's a great idea.