Destiny Refer-a-Friend scheme live - watch this delightful trailer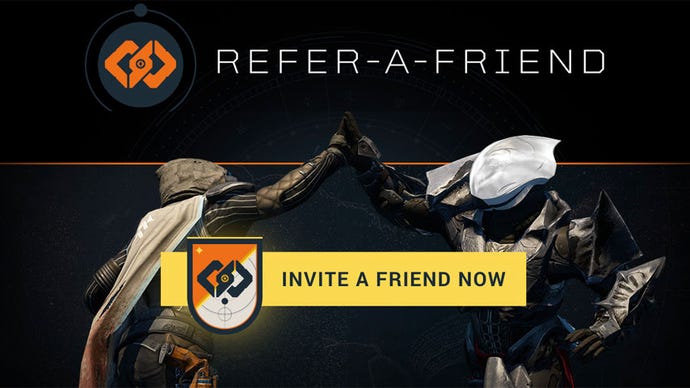 Destiny is better with friends. One friend, in particular.
If you're a Destiny veteran, now's the time to bring a new pal into the fold.
Bungie's Refer-a-Friend scheme is live, so you can start earning rewards by recruiting friends. Note that your pals need to be on the same platform for you to reap the benefits.
Those who bring a buddy in gain access to the following exclusive rewards:
Quest: The Hunt for Loot
Link of Friendship XP bonus buff
Elemental Kinblades (three Legendary Sword)
EV-34 Vector Infinite Sparrow
Duo Dance emote
High Five emote
Infinite Link shader
Sign of the Infinite emblem
To get started, just sign in to Bungie.net and then refer a buddy via the Refer-a-Friend website.
If you've always played Destiny alone, it's really worthwhile trying it with friends, as combining your abilities makes for a very different combat experience. Plus, training up a Kinderguardian is a lot of fun, as this very cute trailer communicates: