Destiny 2: Forsaken introduces a new game mode called Gambit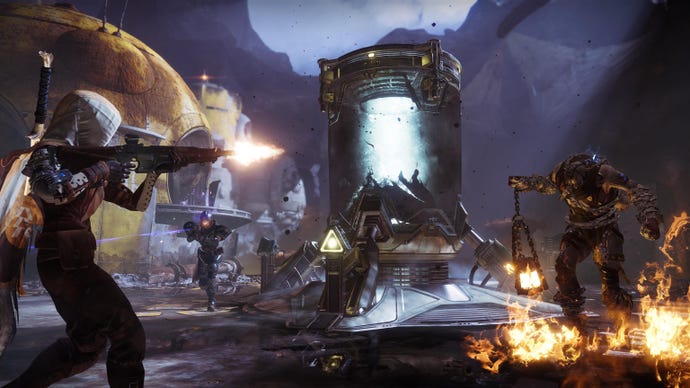 When Destiny 2: Forsaken releases in September, it will include a new game mode called Gambit.
Destiny 2 players will be able to participant in an all-new game mode called Gambit which is being introduced with Forsaken.
It is described as an "all-new hybrid 4v4 mode" which combines "the best" of PvE and PvP.
This is apparently the new game mode Activision mentioned during its investors call.
In Gambit, two teams of four will race to summon a Primeval enemy and be the first to "burn it down." Players will also try to disrupt the other team by sending a combatant blocker or invading directly with one of their own team members.
Players will be able to have a look at the team they will be up against before things kick off, and each will be in a separate arena.
Below is a quick checklist of what's included in the Gambit game mode.
Gambit
Fight: Shoot Aliens until they're dead. Your enemies will get stronger over time, so work together to defeat them quickly.
Collect: Pick up the motes that drop when your enemies fall. You can hold up to 15, but you lose them if you die.
Bank: Drop your motes in the center structure. Earn a blocker by depositing 5, 10, or 15 motes at once. Summon a Primeval when your team banks 75 motes.
Invade: When your bank reaches 25 and 50, you can send one player through a portal to invade the opponent's arena with one goal: disruption.
Destiny 2: Forsaken will release on September 4 for PC, PlayStation 4, and Xbox One.
At launch, previously released Destiny 2 timed exclusives will be made available for all platforms.