Black Ops Cold War Season 5 seems to confirm Call of Duty Vanguard rumours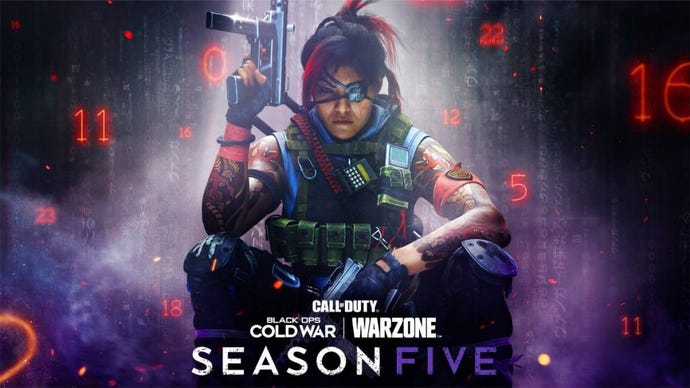 It looks like Call of Duty Vanguard has been officially teased by Activision as a new cryptic easter egg in the Black Ops Cold War and Warzone Season 5 image has materialized.
In a Twitter tease showing off the latest operator – Kitsune – arriving in Warzone and Black Ops Cold War with the launch of Season 5, eagle-eyed fans have also spotted something else.
As you can see from the tweet embedded below, it appears a repeated Japanese phrase in the image suggests 'Vanguard incoming' – which definitely feels like a hint from the developers pointing towards the next Call of Duty title.
This isn't the first we've heard about Call of Duty Vanguard, as well as rumours detailing that the game will be heading to the Pacific theatre of World War 2, we've also heard that it's being developed under the codename Vanguard – and that may not be the final name.
We've also heard that that Warzone will get a large World War 2 map to celebrate its launch.
Lead by Sledgehammer games, Call of Duty 2021 is set to be released during the usual fall window, Activision confirmed in its recent earnings call. The game will feature the traditional campaign, co-op, and multiplayer mode.
Amidst various allegations against Activision, specifically Blizzard, regarding sexual harassment, bullying, discrimination, unfair pay, and more, we've already seen Blizzard president J. Allen Brack depart the company and HR executive, Jesse Meschuk (who had been at the company for 12 years) has left, too.
Practically all work on World of Warcraft has halted, and over 2,000 current and former employees signed a petition condemning Activision Blizzard's reaction to California's lawsuit. Whether these events have had an effect on the new Call of Duty game's development remains to be seen, but it's more than likely the title has been affected in some way.