BioWare already working on storyline for Mass Effect 3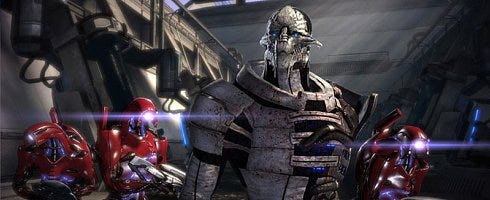 During CES, BioWare project manager Casey Hudson sat down with IGN to talk all things Mass Effect 2 DLC , and admitted that the developers are already hard at work on the story for Mass Effect 3.
You might want to throw some cold water on yourself after reading this.
"We are already at work on Mass Effect 3," he said, "building the first bits of the story, putting that together [but] there will be great downloadable content throughout the time that Mass Effect 2 is out there while people are waiting for the third one.
"You'll always have great stuff. New adventures to play. New things to do. We don't have anything specifically announced yet, but we basically plan for DLC pretty shortly after the release of the game and then a pretty intense schedule of downloadable content throughout.
"This is one of the big improvements that we've been able to do for Mass Effect 2. Lots of DLC and lots of really high quality DLC that players can look forward to."
As far as how long it will take to get it to the public is concerned, Hudson reckons that it will not take another two years before rabid fans will get their hands on it - like with Mass Effect 2.
"We always wanted to make sure that we got the entire trilogy of games done within this console's life cycle. We didn't want to take forever with it," he declared. "So we definitely want to make Mass Effect 3 a fairly short turnaround, but also being that it needs to be a tremendous and epic conclusion to the trilogy.
"I think the exciting thing in the final chapter of the series is going to be just seeing where everything goes that we started. With Mass Effect and now Mass Effect 2, you'll see when you play it, all of these threads keep going. And not only that, all of the choices you've made too. You made choices in Mass Effect and you'll see those in Mass Effect 2.
"And it just cascades - people will see that by the time you finish Mass Effect 2, you'll know that it's your universe -- everything is the way you set it out -- and that all of these things get to come to fruition and some kind of ending in the final chapter."
Game's out January 26.