GameStop Batman: Arkham Knight pre-order bonus will be sold post-launch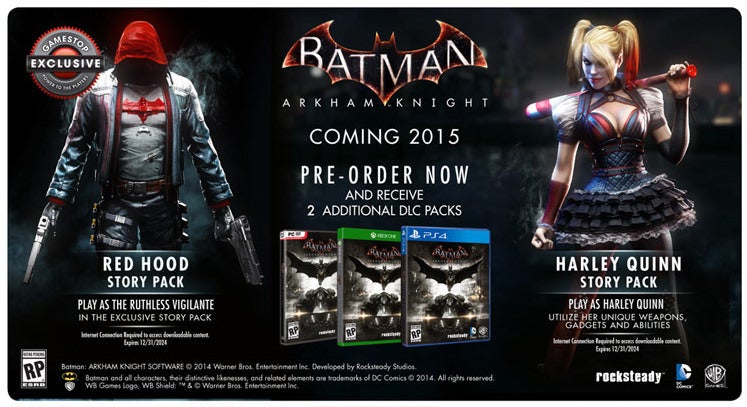 Yesterday, GameStop teased that a "big announcement for a big game" would land sometime today, and it looks as though it's already been outed for Batman: Arkham Knight.
Batman News was handed an image of the GameStop promotional ad which contains the 'Red Hood Story Pack' as a GameStop pre-order bonus.
If you compare the tweeted image with the leaked ad, you'll be convinced it's the same thing. Then, there's the weekly ad which Endless posted in the comments section here. So, it's a done deal.
It's still not live on the official website. At least on the US end 5 minutes ago.
The Harley Quinn DLC posted alongside the Red Hood pack was announced alongside the game in March.
The Red Hood alias has been used by several Marvel characters in the DC Universe, but mainly as adversary of Batman.
Batman: Arkham Knight will release on PC, PS4 and Xbox One in 2015 after being expected sometime this fall.
Update: Gamestop confirmed to Eurogamer that the pack really exists and will be available for purchase separately sometime after launch.
Thanks, CVG.
Big announcement for a big game tomorrow... pic.twitter.com/nSBW7HlFRV

— GameStop (@GameStop) July 22, 2014