Batman: Arkham Knight detailed, watch the debut trailer here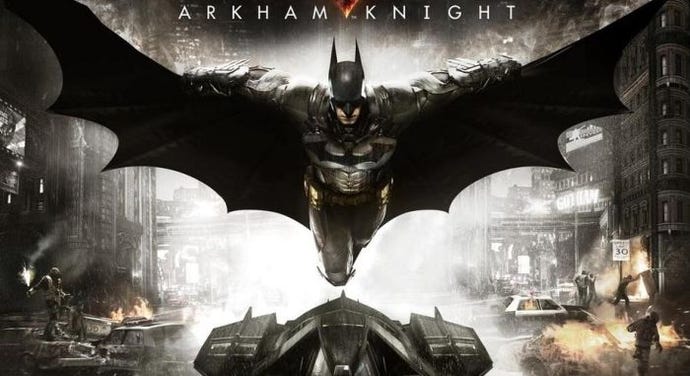 Batman: Arkham Knight was outed earlier today by a GAME listing and now Game Informer has gone live with a look at its next cover, which is - as expected - the next title from Rocksteady.
Here's an image take of the listing
.
The announcement
The retailer lists the title as being available for pre-order on PC, PlayStation 4 and Xbox One per CVG.
According to the description, the game is the "explosive finale in the Batman Arkham series" where players will "take to the rooftop and now - the roads of Gotham as for the first time the iconic Batmobile becomes driveable".
As the retail listing suggests, Arkham Knight, according to game director Sefton Hill, "is the natural end for the story... we really want to go out in style."
Set one year after the events of Arkham City, Game Informer states that a entirely new area of Gotham City is featured in the game, and the map is "far larger than Arkham City".
Arkham Knight will be the last Batman title from Rocksteady, as the firm plans to move on to something else.
The streets are wider to accommodate the Batmobile, and villains include Scarecrow, Penguin, Two-Face, Harley Quinn, and others.
Scarecrow has returned to "unite Gotham's most feared villains" and the pre-order bonus nets Harley Quinn DLC which contains four challenge maps and allows you to play as the villainous vixen.
You can have a look at the Game Informer cover below and the debut trailer above, and there's some artwork for Harley Quinn and the official announcement art below as well.
The title is out this year, and last week, a GameStop employee showed a link to the store's database, hinting at an October listing which would coincide with other releases in the series.
Also last week, a shot of a Batman banner which is to be hung in GameStop stores lead to speculation of the new Batman title from Rocksteady. This information was combined with confirmation from an employee at the chain, along with news of a press-junket held regarding the game in Europe.
Bat's out of the bag now, officially. The webpage is even live.
The NeoGAF pull
As expected, NeoGAF users have pulled bits of information out of Game Informer's digital issue which hit today. The article confirms, once more, that this is the last Batman title from Rocksteady, which plans to work on something new after development on this ceases.
"You see a lot of games that are cross-gen, and they feel a bit reined in because of that." - Rocksteady
The developer also touched upon the reasoning behind not making the game next-gen, with director Sefton Hill cross-gen titles feel "reigned in".
"Obviously, you see a lot of games that are cross-gen, and they feel a bit reined in because of that," he said. "Because we were able to make that decision quite early, we were able to be more ambitious with the design and make a real, genuine next-gen game." It's not a challenge to move to next-gen. The real challenge is making sure you're getting the best out of the machines.
"It's easy to get the game running, but it's about, 'what can we do that really pushes those machines?'"
Here's a list of interesting bits straight from user MiamiWesker:
Last Batman game for Rocksteady, will work on something totally new next.
There will be a brand new villain, something made by Rocksteady that they say will be the ultimate test for Batman
Batmobile can be called at any moment with a button.
The city streets are much wider to allow for the batmobile. You will rocket jump off ramps and do all sorts of cool maneuvers.
You can eject jump out of the batmobile right into a super fast glide straight through the glass of a building to knock out enemies. They said glass breaking will be a big new thing.
New moves include being able to use all your gadgets during flight. You now have a counter throw where you counter a guy and throw him into another guy. A new quick ground takedown. A quick backflip where you then throw a batarang in an enemies face.
For the predator sections you can now chain takedowns of up to four enemies. For instance pop out of a grate and take one guy, jump to the next and so on. You can now enter grates from a distance, he will automatically do a jump or roll to enter them.
Riddler challenges seem to be car based. The first one has you enter a sort of Riddler race track where you have to activate walls and ramps, when you activate one another closes so as you drive you have to be constantly turning on and off these ramps as you navigate the course.
Batmobile fires missles and stun guns. It destroys anything it touches so if you bump into cars the cars go flying. It's basically unstoppable.
Story is that after Joker's death all the criminals decided to work together and their plan comes together this night where they plan to kill batman. The article talks mostly about Scarecrow, he scattered bombs throughout Gotham.
Oracle will play a larger role, you get to visit her base and talk to her, tons of batman easter eggs included.
Kevin Conroy is Batman, all the previous voice actors are back.
Gothom City is 5 times bigger than AC. Split into 3 areas. NO LOAD TIMES at all, entering buildings is seemless.
They spend a bunch of time talking about how detailed the models are, one character has more polygons than the environment of Asylum.
Batman will start off with the old batsuit and upgrade at some point in the game.
It says it is running on their modified "juiced up" version of Unreal engine to make use of the Xbox One and PS4.
" We want to focus on making the best single-player experience we can. We don't feel that it needs a multiplayer element."
User WordsintheWater pulled even more information out, stating the game no longer contains pre-rendered cinematics as everything is "done in-engine," and larger riots will have up to 50 people looting Gotham City and flipping cars over in the streets.
Gordon's trench coat and Batman's cape contain Apex cloth physics which means the garments will react "realistically to changes in wind and movement," and weather effects will be present on Batman's suit such as rain drops.
It also won't have multiplayer.
"We don't have the time to do multiplayer," said Hill. "We want to focus on making the best single-player experience we can. We don't feel that it needs a multiplayer element.
"Warner Bros. backed that up right at the start."
You can read the entire pull through the link.
The game is rumored to be releasing on October 14 per a GameStop placeholder listing.